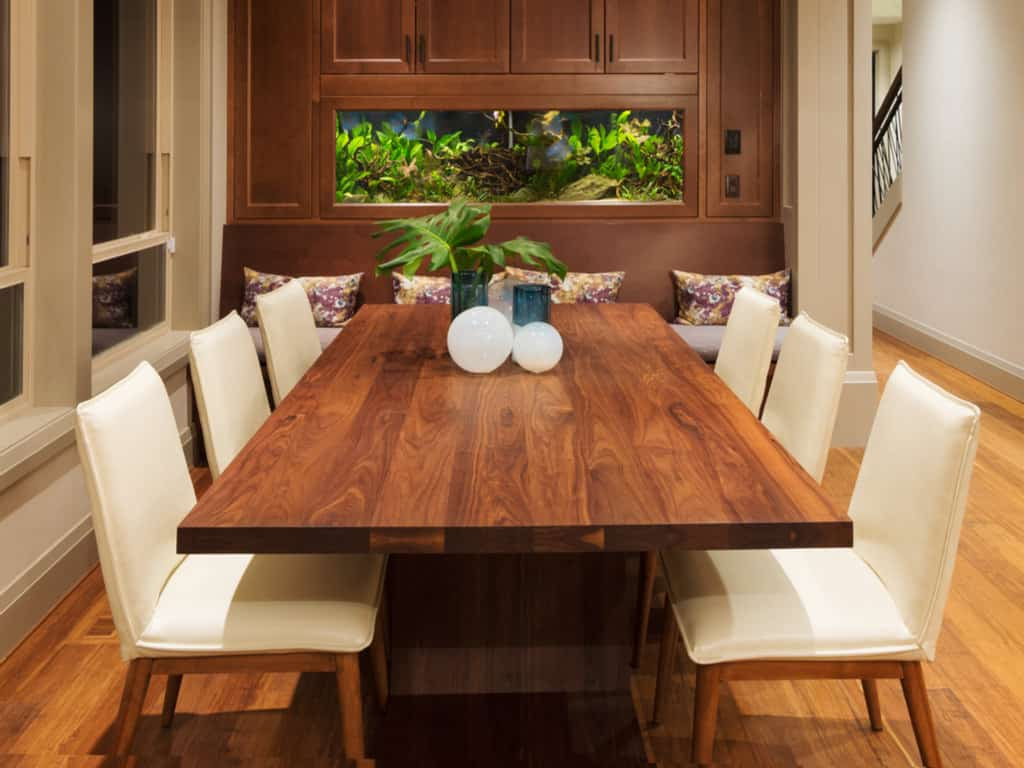 A long beautiful and sturdy dining table will certainly create a more comfortable and functional dining area. The dining area is one of the favorite spaces for family gatherings other than in the lounge.
In the dining room, the family can meet, joke and discuss with other members. For those of you who have a large family and want to buy a long dining table in the kitchen or pantry area, there are a few things to remember.
Apart from a design perspective, there are a number of rules that must be observed before buying a long dining table. Don't just buy a long dining table so that it can't be used optimally. It's the same as wasting money. Let's look at the following tips on buying a long dining table!
Choosing a long dining table material
The long dining table material also needs to be considered. Choose quality wood, sturdy, and can have durability for more than ten years. Long dining table materials to consider include teak, walnut maple, or mahogany.
The long dining table distance to the wall
When choosing a long dining table, we need to consider the distance from the table to the wall. Why? The reason is, the long dining table distance to the wall has an effect on the space for its users.
For example, when standing or sitting after enjoying the dishes provided.
At least the long dining table needs to be 1.2 meters, aka 48 inches from the wall. In addition, we also won't feel the dining room space is too narrow which will only make the dining room look cramped and uncomfortable.
Allow space between chairs
Even though it seems trivial, it is also important to provide distance between one chair and another! The absence of distance between one chair and another will only make long dining table users uncomfortable when eating a meal.
The ideal seat pitch is about 60 centimeters. So, there is still room for movement that makes users free to sit and stand at any time. Whether at breakfast, lunch, or dinner.
Determine the size of the long dining table
Before buying a long dining table, first, measure the area of ​​the room or dining area. If the long dining table is deliberately used to serve up to more than 6 people, it is better not to over fill the room.
If the dining room is limited, a long dining table can still be tricked by choosing a long chair or long bench. So that the chair becomes more practical and takes up less space.
Many of us are confused about what type of long dining table is suitable because sometimes it only has a dining area that is not too large.
No need to worry, because you can choose a long, oval-shaped dining table model. In addition, for some, the long oval dining table has the advantage that there are no sharp corners on the sides.
So, it is safer, especially for families with small children or elderly people to prevent bumps or injuries.
Determine the color of the long dining table
One more thing that should not be forgotten when buying a long dining table is color. Choosing the color of the long dining table is also important so that the design of the room and furniture remains in harmony.
For example, if the wall paint is brightly colored, you can choose a long dining table with a neutral color. Like white, beige, or brown and black. A neutral long dining table color will suit any wall color type better.
Leave a distance of 1 meter between the wall and the chair
Avoid forcing a long dining table size that is too large in a small room. This will only make the dining room seem cluttered and cramped. The method is simple, as much as possible try to have a distance of about 1 meter between the wall and the chair.
So, later on, it will facilitate access to the movements of users who want to leave the table or want to sit down.
Glass long dining table for dark wall colors
If you have a dark dining room wall color, try to buy a long glass dining table. The reason is, the long glass dining table will make the room feel more spacious.
The long glass dining table reflects light that comes from natural lighting, windows, and lamps. So, the room that was dark and gloomy will feel brighter and wider.
Not only that, but the glass long dining table is also very easy to clean. If there are stains on the table, just wipe it or spray a little water, then everything is clean quickly.
Metal long dining table
Gold, silver, brass, or iron generally go great together when paired with different colors or patterns. This is why you can try metal materials for long dining table materials.
Basically, you don't need to worry about mixing interior design and wall paint colors. The reason is, metal or metallic colors are very easy to combine with any furniture or wallpaper colors. Don't be afraid to be creative or combine your favorite colors.
Metal colors are always reliable and look great with other colors in the room as a whole.
Adjust Needs and Comfort Level
When you have a long dining table, consider paying attention to the shape and size of the room to make it feel more spacious. Comfort is very important when residents want to enjoy a meal together with other family members.
For example, if the dining room is not very large, you might consider having a dining table with 8 chairs instead of 10. Or instead of buying a rectangular dining table type, change to a round dining table.
Another option is to choose a dining table that can be folded, so it can save more space when not in use.
In addition, when deciding on a dining table model, whether rectangular, square, or round, it is necessary to pay attention to how many people are seated. For example, if the table is more than 2 meters in size, of course, it will be less comfortable if the distance between the chairs is too far. Because people who eat will find it difficult to talk or have a conversation.
Consider having a round or square table that seats 8 people. The larger the table, the more limited the range of people talking to. Because the table is large, it makes people only chat with the person next to it. Instead of chatting with the person across the table. In some cases, it's better to consider an alternative form of the dining table. Like the size of a rectangular dining table with a width of 1 – 1.25 meters.
For your information, the size of a rectangular table for about 12 chairs is 305 x 140 cm (120 x 55 inches / 10ft x 4'6 inches), which is also comfortable for about 10 seats.
Meanwhile, for a long dining table containing 6 chairs side by side, the minimum space required is 366 cm x 76 cm (144 x 31 inches / 12ft x 2'6 inches). You can make a simpler table by placing two chairs on each side. Although it requires a minimum size of 320 x 122cm or ideally 350 x 152 cm.