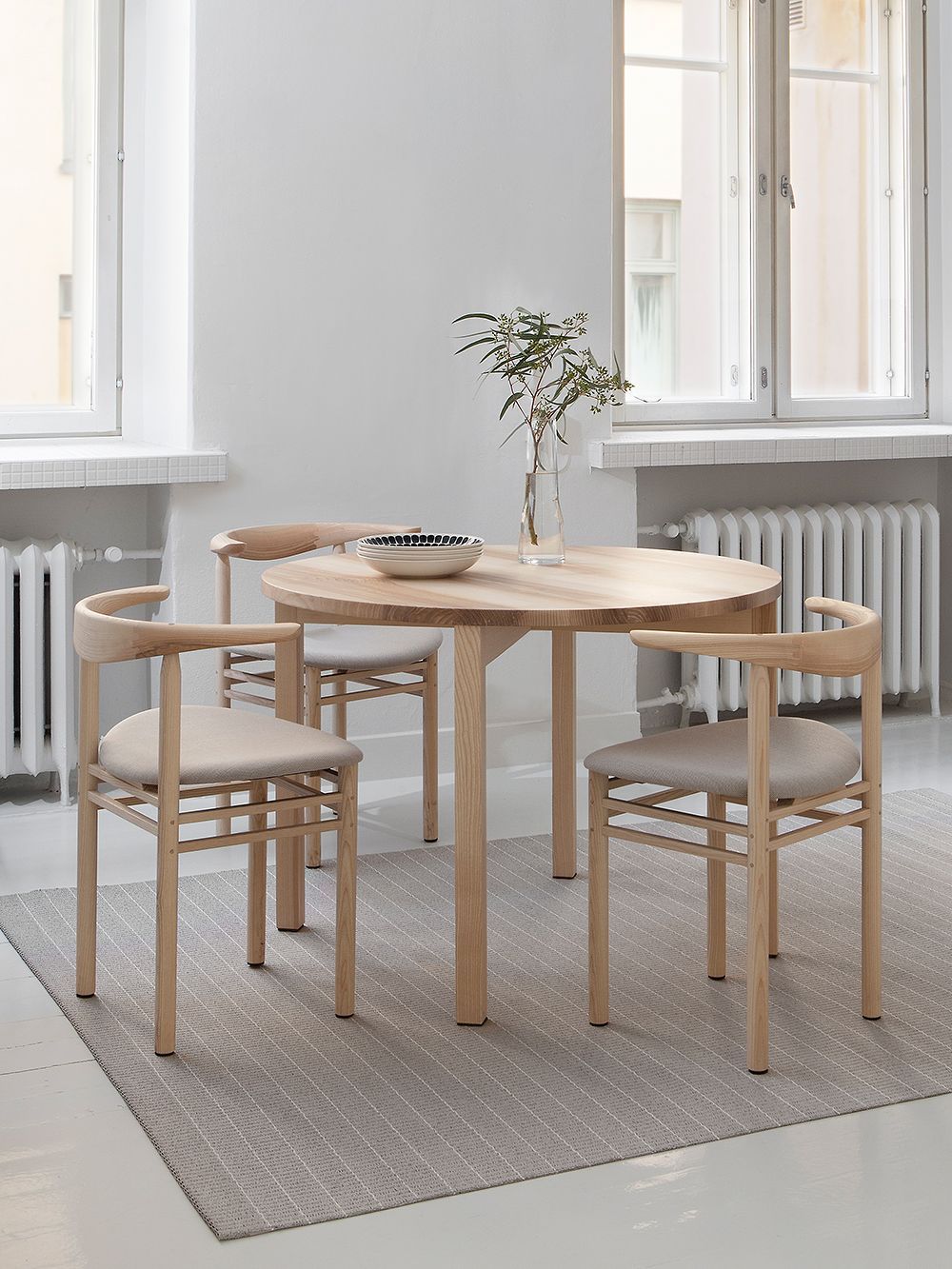 Inspiration for Japandi Themed Homey  Dining Room
Occupancy is limited, but you need a multifunctional dining room? One option is to apply Japandi interior design. This Japanese Scandinavian- style interior concept combines a simple, but a space-saving style that makes maximum use of every space so that it is ready to support your needs who want to create a dining room with a charming design on a narrow area.
As inspiration, we will share various references to Japandi dining room designs that are cool and of course meet the space-saving criteria so that they will provide maximum comfort to all family members at home. To find out more, see the following references to the Japandi-style dining room design, let's go!
Dining Room Design with Lots of 
Storage
Equipped with a tall, multifunctional cabinet in the kitchen area to accommodate a lot of storage at once, this Japandi-style dining room design is also designed with a ceiling that is made high so that the room is stuffy-free. Meanwhile, the use of natural colored wood materials successfully gives a dynamic impression without making the room look cramped. The warm impression in this dining room is even more felt thanks to the dim lighting.
Open Dining Room Design
To get around the limited area of ​​the house, you can also apply the concept of open space as applied to the design of this dining room. Yes, even though the size is relatively small, the design of this dining room looks very spacious and space-saving, especially thanks to the use of white dominance which also gives a clean impression typical of Japandi designs.
Besides that, you can also maximize the Japandi concept through the use of multifunctional furniture that doesn't take up space. For example, a custom-made water dispenser with additional open cabinets and shelves. Very space-saving, right?
Dining Room Design with Natural Nuances
Having direct access to the back garden area, this Japandi dining room design is ready to provide full comfort to all family members of the house. The design concept does emphasize natural nuances, but still gives a warm impression thanks to the lighting arrangement and the use of multifunctional wooden furniture.
The appearance of the dining room as a whole is also not monotonous because it uses contrasting colored dining chairs and a very unique decoration lamp placement. Very warm and homey, right? 
Modern Japandi Dining Room Design
The next dining room design inspiration not only applies a space-saving concept but also accentuates the modern Japandi impression thanks to the use of medium-dark wood material on the dining table set. Meanwhile, additional wall hangings in the form of landscape paintings also make the room look unique and luxurious. Not to forget, the use of creamy white on the walls also makes the composition of this dining room look balanced.
Space-saving Dining Room Design
This dining room design is also specially made to get direct natural light access which will make the room look bright. With the dominance of neutral colors on the walls and the use of light wood-colored multifunctional furniture, this Japandi dining room feels very clean, comfortable, and strengthens the space-saving impression that you want to highlight.
Japandi Dining Room Design in Apartments
The Japandi dining room design is also very suitable to be adopted for a small room, such as in an apartment. The dining table in the room has a multifunctional role because it is equipped with storage in the form of drawers, and can also be used as a work table. Meanwhile, the application of gray accents in the kitchen set and pastel chairs really represents the characteristic of Japandi's interior style.
The six dining rooms above apply Japandi design that is full of warmth and space-saving so it is suitable adopted by those of you who have a limited area of residence. Don't forget to complete your Japandi-style dining room with a variety of multifunctional furniture and decorations.