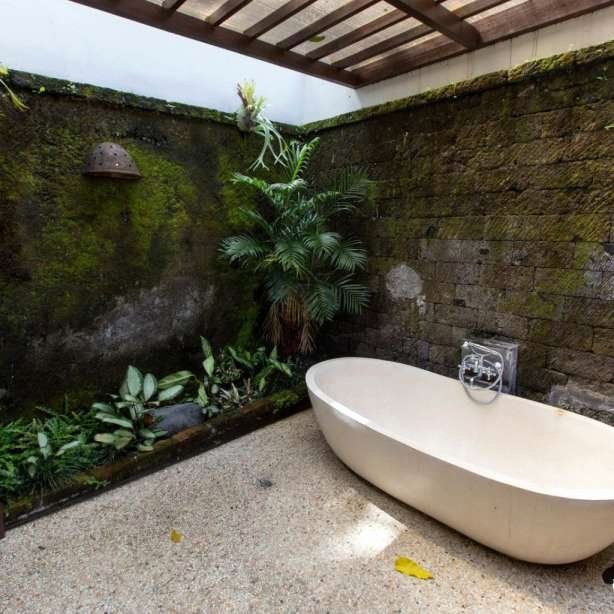 The appearance of the bathroom as it is may make the activity of cleaning yourself in the house a bit boring. But now, the design of an open or outdoor bathroom like in a villa is becoming a trend. You can just try to design this open-air style bathroom at home. But there are a few tips that must be considered first!
Customize Design Concepts With Occupancy
If you want to make a bathroom in an open style, it's definitely fun. But before you give this idea to the architect, try to see if it is possible to make an outdoor bathroom at home. Don't worry, the architect must have a solution for that. Even though it's not completely open, making a wide opening in the ceiling can also give a different outdoor feel.
Pay attention to tenant privacy
It's okay to make a bathroom with outdoor nuances, but don't let it be a public spectacle! The bathroom is the part of the room in the house that must be kept private. Therefore, when you want to create an outdoor bathroom, pay attention to the environment around the residence. Utilizing lush types of plants such as bamboo or shrubs to cover an open bathroom can also be a solution besides the main wall, of course. If it's still not possible, you can use frosted glass to cover part of the bathroom area so that natural light can still enter freely.
Bathroom Area Not Reached by Public
Well, there are several areas that can actually be used to create an outdoor bathroom. One of them is the very top of the house or the rooftop. But, once again make sure if the top floor of your house is not accessible to the neighbors' view! If you feel safe, you can design a very pleasant outdoor bathroom. For example, place the bathtub in an area that juts out a little so you can soak while looking at the stars. Or, you can just bring the Jacuzzi outside the bathroom to pamper yourself.
Use Ornamental Plants
If your outdoor bathroom is finished, what do you feel is lacking? Ornamental plants, of course! There are several types of ornamental plants that really like being in humid areas, such as types of philodendrons or alocasia. If the bathroom in your house is rather spacious and open, maintaining large leafy plants such as monstera or gloriosum can be a beautiful choice so that the tropical nuance is so strong in the bathroom. Good luck!