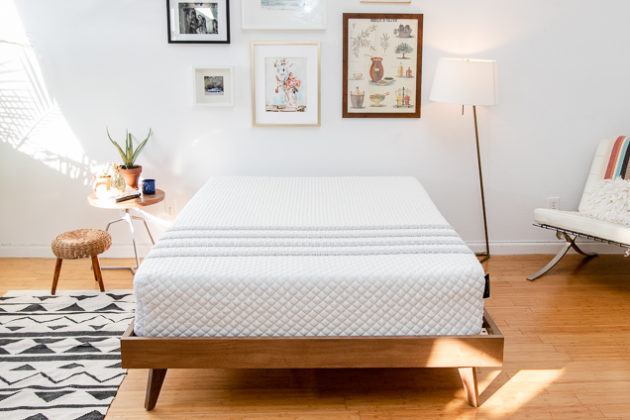 Apart from the bedroom, one of the most important elements in supporting everyone's rest is the mattress/bed. That is why everyone will choose a quality mattress for the needs of rest that can be fulfilled. Just imagine, after a tiring day of activities, it is certain that the mattress is the thing that is most coveted when you return home. But you need to check, is the size of your mattress according to your needs?
For those of you who intend to buy a new mattress, you must know the ins and outs of your dream mattress first. You have to measure the mattress with the room size and body proportions as well. Check out the information together, let's go!
Single Size Mattress Size
This minimalist mattress that fits one person is often called a twin-size mattress. The size of this single mattress is 200 cm long and 90 cm wide. Some manufacturers have even issued size variants for twin-size mattresses.
Standard twin size mattress, size 190 cm x 100 cm. It only differs 10 cm in length and width when compared to the single size. There is also a short twin mattress, aka narrower than the standard twin-size mattress. The size is approximately 86 cm x 190 cm.
The last variant of the twin-size mattress is twin XL with a size of 100 cm x 200 cm. This twin XL size is often found in Indonesia in addition to the single size.
The single-size mattress itself is not too big so it is suitable for use in a narrow room. You can use the mattress as a child's bed or even for a boarding room. To minimize the use of space in a boarding room, you can use this single-size mattress without a bed.
Many bed sheets with character motifs are attractive and affordable if you want to use the mattress for a child's bedroom. Don't forget to tell the seller you are looking for sheets for mattress size number 4. Your little one will love sleeping on the mattress with cute patterned sheets. 
Single Size Mattress Modification
You can also use a single-size mattress for a bunk bed. The bunk beds usually be an alternative for families with several children and a limited room. 
When the holiday season arrives and your house is used as a family stopover, you can also combine this single-size mattress into a king-size. Family vacations are certainly more beautiful with a wide mattress.
A single-size mattress is not recommended for those of you who have a body with a scale above average. Besides being too narrow and making you not free to move, owners of large bodies tend to be uncomfortable sleeping on small mattresses.
Double Size Mattress
If you often stay or spend the night at a hotel, you must be familiar with the term twin bed, aka a room that is filled with two double-size beds. This double-size mattress is usually 200 cm long and 120 cm wide. 20-30 cm longer than a single-size mattress.
If you want to buy sheets for this mattress, you will usually be asked by the seller for sizes 1 to 4. Now, this mattress is included in the size number 3 category. Don't buy the wrong one.
This double-size mattress is quite comfortable to use alone and too narrow for two people. This type of mattress is also suitable for use in rooms that are not too large because they do not take up too much space. For those of you who are overweight, try this double-size mattress as your bed.
Queen Size Mattress
An alternative mattress that can be used to sleep together is a queen-size mattress. This mattress is 200 cm long and 160 cm wide. Its size, which is not too big and not too narrow, is considered to be suitable for the body of most people. For the size of the sheets themselves, you just have to say that you are looking for sheets with size number 2. However, the size that is not too big makes this mattress less suitable if it is placed in the master bedroom. 
Several mattress manufacturers have also issued different size variants for queen-size mattresses. Don't be confused if you find a queen-size mattress with Olympic or Californian size. All three are only a slight difference in size.
The standard queen-size mattress is 152 – 160 cm x 200 cm. The Olympic queen mattress has a size of 167 cm x 200 cm. The last variant, California Queen has a size of 152 cm x 213 cm.
King Size Mattress
As the name implies, this king-size mattress is large. It is 200 cm long and 180 cm wide. Suitable for two people and placed in the master bedroom. 
If you are looking for sheets for a king-size mattress, you can say that you are looking for bed sheets for mattress size number 1. Sleeping on a king-size mattress will feel very comfortable because the size is wide enough to facilitate movement while sleeping.
In addition to the standard king size, some manufacturers also have king-size mattresses with Californian sizes. The Californian king size is 213 cm x 183 cm. 
Super King Size Mattress
You could say that the super king-size mattress is the largest size mattress currently on the market. The length is 200 cm as well as the width. It is suitable for sleeping two people and placed in the master bedroom. 
Because the size is quite large, usually this mattress is also quite heavy. There are several mattress manufacturers that also add box springs to the bottom of the mattress or bed. The box spring has a function to support the jumbo-sized mattress.
The size that is large enough often makes the hotel choose a super king-size bed in the family room. It is wide enough to sleep for two adults and one child. 
Family Size Mattress
If children love sleeping with their parents, there is nothing wrong with choosing a bed with the family size. Super-king size mattress is usually only enough for parents and one child, different from family size mattresses. This mattress can sleep up to four adults.
So, if you sleep with children, this mattress can accommodate parents and three children. Because this mattress is very large. Width reaches 12 feet or 365 cm. Twice the size of a king-size bed! 
You can be sure that your bedroom has to be extra spacious to accommodate this super large mattress. 
Those are the various mattress sizes that you can find in the market. Make sure the size is appropriate, both in terms of the room and body size. A quality mattress with the right size can get rid of all-day fatigue and make the body more energized. 
So, which mattress is your choice? Share your experiences when buying and choosing a mattress in the comments column.