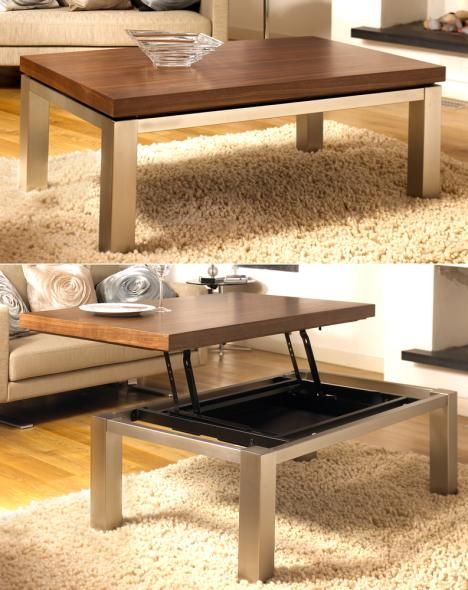 Living in an apartment that is relatively closer to the place of activity is currently the choice of many people. Especially for those who live in big cities, this method is considered the most effective way to avoid congestion on the road as well as to save time. The quality of life is getting better.
For those who are living in an apartment for the first time, maybe not used to its size, which tends to be smaller when compared to a landed house. Furniture selection is often not the same as home furniture.
Especially for tables, you should choose one that is multifunctional so you don't take up space. Want to know the design of a multifunctional wooden table that is suitable for an apartment? Come on, see some examples.
1. Combining table with drawers
If you live in an apartment unit type 2BR or 3BR, there must be a separate family room or TV room. For this room, choose a wooden table design that is medium in size and has drawers.
The drawer can be 1 large drawer or it can consist of several drawers. So the table does not only function as an ordinary table, but can also be used as storage. For example, to store magazines, newspapers, TV remote, and others so that the room looks tidier.
2. Wooden table with shelves underneath
If you prefer an open table but can still function as a storage area, you can choose a table with a shelf under it.
This table can be placed in the TV room and has the same function as the first table. But remember, because the storage space is open, things that are stored on the shelf must be neatly arranged, huh.
This type of table is suitable for fairly spacious apartments, with 2 or 3BR which has a separate TV room.
3. Wooden folding table
For those of you who live in studio apartment units, the size is indeed much smaller than other units. Choosing and placing furniture in a studio unit is also tricky.
But that doesn't mean you can't use the table, you know. If your studio unit uses the concept of sitting on the floor without a sofa, choose a folding table that can be used to sit on the floor.
This table can be used while eating or for work, whether writing or using a laptop. You can also use this table on the bed. When it's finished using it, just fold it and set it aside on the edge of the wall. Practical and does not take up space, right.
4. Wooden table and sofa together
Still want to have a wooden sofa and table in the studio unit? Yes you can if you choose this multifunctional table. Uniquely, this folding table can be used as a dining table or work table to sit on the floor.
But if you want to watch TV comfortably on a soft sofa, all you have to do is open the table top, and the table changes its function to become a comfortable sofa. Practical and can be adjusted to your needs.
5. Dining Table Design with Shelves and Drawers
Living in an apartment, the dining room is often removed to save space. Even though you can still choose a multifunctional dining table, so that you and your family can still eat comfortably and you can still get the warmth of the family when eating together.
Choose a dining table with a size that is not too big. Underneath there is storage space such as shelves and drawers that can be used to store cutlery and other items.
Instead of taking up space, this wooden table design is actually very useful. Make sure there is enough legroom when sitting. This table is suitable for apartment units with 2 or 3 bedrooms. It could also be an option if you want a minimalist dining table design.
6. Wooden Table Design on the Wall
Living in a studio unit can also have your own dining table that doesn't take up space. If you don't like sitting on the floor, you can choose a wall table or often called a hanging table.
The wall table can not only be used for eating, but also for study or work. Install a wall table in front of the window. So when you eat or work, you can see the scenery outside.
If you want to save more space, choose a foldable wall table. So after use, it can be folded and takes up no space.
7. Multifunctional and Artistic Wood Table
Having a multifunctional table doesn't mean you have to sacrifice the artistic side. You can still choose a table with a unique and artistic model. This wooden table can be used as a sitting table and can also be tilted to the other side and used as a regular table where you can sit on a chair. So you want to sit on the floor or sit on a chair, everything is possible.
This table that can be used as a dining table or work table is suitable for use in studio units and can only be used for one person.
8. Folding table as well as a wall shelf
Do you want to have a wall shelf and dining table at the same time, but the area of your apartment unit doesn't allow you to have both? The solution is to choose a wall shelf where the door can be opened and functioned as a folding table.
When you want to eat or work using a table, open the shelf cover and position the shelf cover into a table. When finished using, close the door again as before. Space saving and multifunctional, perfect for studio units or 1 bedroom apartments.
9. Multifunctional Dressing Table
Living in an apartment with a limited area does not mean you have to sacrifice a dressing table. Especially if everyday you are used to or required to wear make up.
Surely you have a lot of make up supplies and need storage. So so you don't take up space, choose a dressing table with a small size that has storage space.
The storage area can be in the form of a drawer under the table. You can also choose a folding dressing table that can be opened at the top. Once opened, there is storage space as well as a mirror for makeup. When finished, the table can be closed and used as a regular table, it can be used for eating or working. Wow, very useful, right.
This wooden table design is suitable for studio apartment units and 1 bedroom units. The table can be placed in the room or TV room.
10. Folding Iron Table
Don't like your clothes wrinkled? When on the move, wrinkled clothes can also make you feel not confident. Therefore, you need an ironing board. But ironing boards that are sold in the market take up enough space, not enough for a studio unit.
Well, you can choose this wooden folding dining table. When closed it looks like a wall shelf with a mirror. But when the door is opened, it can be used as an ironing table. The shelf in it functions as a place to store irons and various accessories.
Well, that's a multifunctional wooden table that should be in your apartment. Which wooden table do you already have?