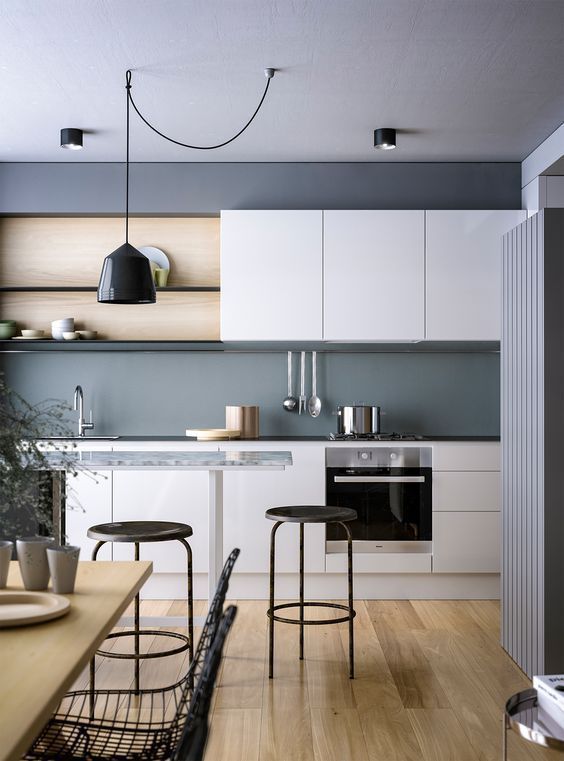 Clean Kitchen Design with Space-Saving Japandi Concept
The kitchen is an area for cooking. Everyone knows that. However, did you already know that the kitchen is divided into clean and dirty kitchens? Dirty kitchens are used to prepare food, cook, and mix spices. As the name implies, this kitchen is prone to dirty. Meanwhile, clean kitchens are used to organize food and make snacks such as bread.
Maybe some of you are wondering, what does a clean kitchen look like? Well, this time we will share the inspiration for a clean Japandi-style kitchen. Let's see the placement and interior design of a clean kitchen together!
Clean Kitchen with Multifunctional Cabinets
The Japandi style seems to dominate this clean kitchen. The large furniture used is a wardrobe because it is multifunctional. The material uses light-colored wood. You can use the cupboard as a storage area for eating and drinking utensils.
Meanwhile, the top is used as a table for arranging dishes. There is also a rice cooker and fruit basket. This clean kitchen area is more space-saving, right? For decoration, there are green plants in pots and mirrors hanging on the wall.
Feel Relieved Thanks to the Window and White Color
The next Japandi-style clean kitchen inspiration is made in one area with a dirty kitchen. The position forms the letter L. The dirty kitchen is near the window so that cooking smoke does not get trapped in the house, while the clean kitchen part is neatly arranged, close to the wall. Also equipped with indoor ornamental plants that add to the beauty of the kitchen.
There is also plenty of storage space in the clean kitchen area up to the upper wall. The application of this space-saving concept is guaranteed to make the kitchen feel relieved. Plus, the furniture is predominantly white with light-colored wood and large minimalist windows.
Model 

Kitchen Island
A clean kitchen can be placed anywhere, including in the middle of the room, such as a clean kitchen that uses this kitchen island. The material uses a combination of bright wood and white marble which gives a luxurious impression.
This clean kitchen is also multifunctional. You can use it to serve dishes as well as being used as a bar table. Just add a bar stool with a matching model.
On the inside that leads to the refrigerator, there are several drawers so you don't need to add more storage furniture. This Japandi-style clean kitchen design looks even neater with simple decorations in the form of flower vases and teapots along with beautiful glasses.
Space-saving

 with Essential Objects
One of the keys to the Japandi style is the use of essential items only. For the kitchen, essential furniture is a stove, sink, and refrigerator. Meanwhile, microwaves and air fryers are not used all the time. After all, its function can be replaced by a stove. Without the presence of these two pieces of furniture, the kitchen can still be used optimally and more space-saving.
This clean kitchen inspiration has more storage space and is well-organized. Kitchen cabinets are made with typical Japandi light wood material. This kitchen is U-shaped which makes it easier for you to move around when cooking, washing, and preparing dishes.
The Dominance of Light Wood, But Still Elegant
The Japandi style is synonymous with the use of bright wood materials. Even so, you can still make a clean Japandi-style kitchen look elegant! For example, combining brown wood with luxurious white, where the entire lower cabinet uses wood material and the top surface becomes a white kitchen table.
In addition, the upper cabinets are white and are joined by brown wall shelves. This clean kitchen belonging to the modern Japandi style is indeed integrated with a dirty kitchen, but thanks to the combination of the cabinets and shelves at the top, it creates the illusion as if the clean and dirty kitchen is separate. Don't forget to add decorations in the form of tiny green plants for a Scandinavian- style natural impression.
Basically, a clean kitchen area has a low risk of getting dirty. However, to keep things clean, it doesn't hurt to use a backsplash too. You can also make drinks or arrange food in a calm manner. Those are the five inspirations for a clean Japandi-style kitchen.
Finally, don't forget to also complete the entire room in your residence with furniture that is multifunctional and space-saving.