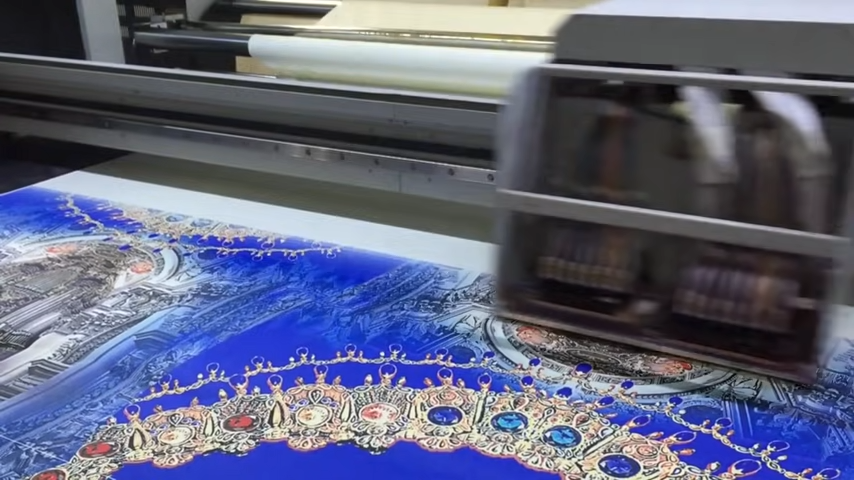 Fashion trends are rapidly evolving. The world of fashion is expanding quickly in tandem with technological innovation. The printing technique is one of the fashion techniques that has seen a significant alteration recently. Fabric printing has undergone a rapid evolution and is shifting direction quickly.
Digital/sublimation printing has become more popular as a result of the growing desire for originality and a wider selection of patterns, designs, and patterns. Although these printing methods are relatively new on the market, they are flexible, long-lasting, and provide limitless possibilities for the coloring, printing, and designing of many types of materials.
Textile producers have fully embraced these printing techniques and have simplified their entire designing, planning, sample, and production processes to provide customers with a magnificent and wholly unique look.
There were numerous unfavorable parallels to lithographic printing while digital fabric printing was still in its infancy in terms of quality. But because of recent advancements, the quality of digital printing is now on par with that of older, more established techniques, and in many cases even outperforms them in terms of quality and versatility. Additionally, more intricate images can be created and incorporated into the cloth.
Specifically designed inks are required for modern digital printing. With a variety of fibers, including nylon, cotton, silk, lycra, spandex, polyester, and other specially produced fabrics, the inks can be used without risk. The fabric is fed through rollers into the printer, which then sprays the fabric with microscopic ink droplets. Digital printing, as opposed to conventional screen printing, can be used to print several designs and patterns for less money on a single fabric.
Sublimation printing is another amazing printing method applied in this instance. A computer-assisted digital printing method that produces prints with outstanding clarity is sublimation printing. It simply comprises creating patterns and designs on a computer, then imprinting these amazing prints on cloth with the aid of industrial pressure and heating procedures. The textile industries may confidently experiment with any color schemes, fashion trends, and themes thanks to computer tools, exceeding client expectations with custom fabric printing.
The aforementioned techniques have many benefits over the conventional ways. The variety of designs and prints available when employing digital techniques is one of the key advantages. For instance, there are several color combinations and options available with sublimation.
The prints' longevity is another benefit. Modern ink-printed fabrics are of exceptional quality because they maintain the vibrancy of the color print, which does not fade. During the heat transfer procedure, the ink is transformed into ink. As a result, the tones meld together to produce photographic prints that are unequaled by any other printing process in terms of durability and originality.
The cost of production has decreased because of the adoption of cutting-edge technology. Due to this, businesses can now offer printing services for less money than they could in the past. Additionally, the industry may now serve both individuals and organizations because of the usage of technology. Now, you can get a high-precision printed fabric to give as a gift or to brand yourself.