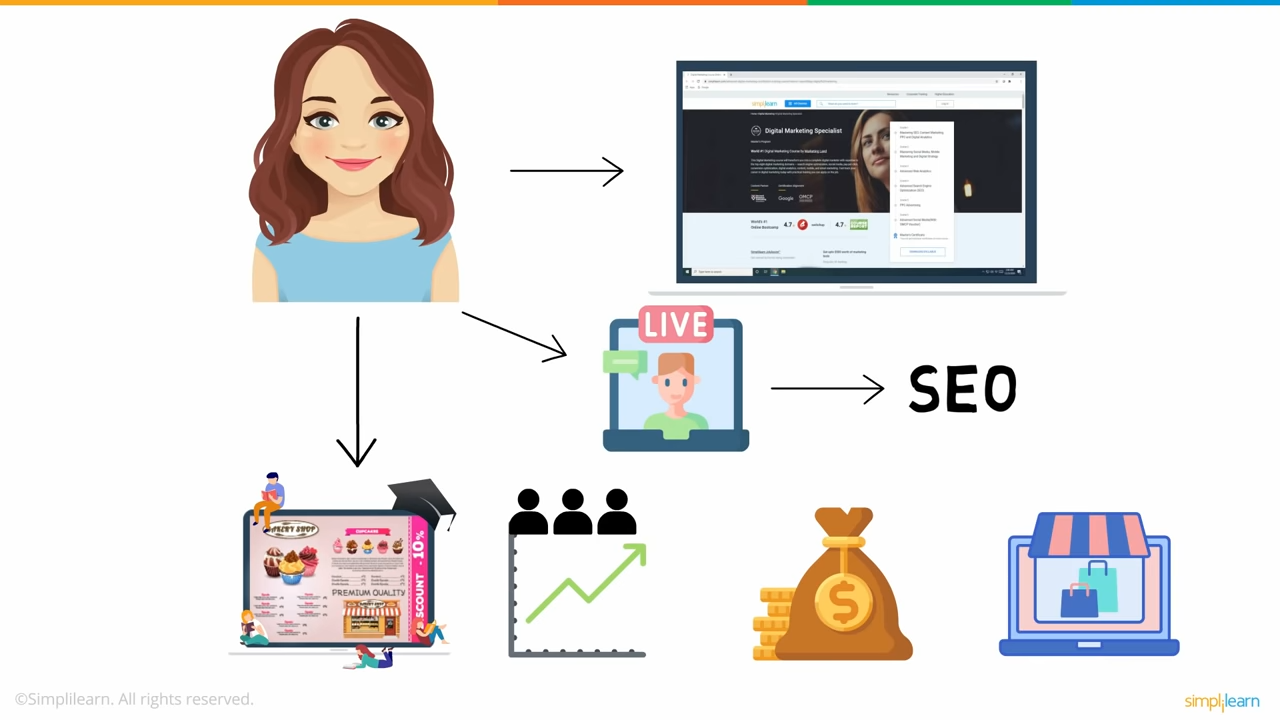 Search engine optimization (SEO) is becoming a key component of internet commerce. To produce meaningful results, SEO continually changes its functionality and releases upgrades like algorithmic changes. Similar to this, investing in SEO can be very confusing. The majority of people use the internet and search engines like Google, Bing, and Yahoo. By bringing in clients, SEO promotes the success of your firm. Visibility, branding, web traffic, credibility, and return on investment are all provided for businesses.
Seven Factors That Make SEO Vital for Business
Visibility
Customers look for goods and services. Any company wants to be at the top of search engine results because leads could result from it. In actuality, your company must be mentioned in the majority of search results. Keep in mind that most customers won't scroll past the first page.
Trustworthiness
Brands are effectively ranked by searches based on the search results. If your company generates leads, it must first have a certain level of credibility, which doesn't happen overnight. The entire thing should be optimized, and Google should search your website for outcomes. if your website was listed first organically. It builds credibility in users' views.
Brand Recognition
Brand recognition aids in the identification of goods and services. Users should become aware of your goods. As a result, it can catch consumers' attention. Optimizing can be used to do all of these. With the aid of SEO, you may increase brand recognition and client reliance. With the aid of SEO, you can venture as far from your home territory as you like and develop a suitable virtual persona to connect with a worldwide market via the Internet.
Cost Effective
Due to the high ROI of SEO, it is the most economical form of marketing. Getting your business further online is claimed to be both time and money-saving and plays a significant part in marketing. A firm can benefit from organic traffic, and you should be able to perfectly achieve your objectives.
Income from Investment
Compared to marketing and advertising, SEO can help you generate a high rate of investment. Advertisements are expensive and occasionally they may not bring in any money. With SEO, you can contact customers without wasting money or time. You can advertise your brand online, but make sure it looks good.
Recognizing Consumer Behavior
The greatest way to comprehend customer behavior is through search engine optimization (SEO). You can determine the audience type visiting your website and do an analysis. Collect data on your clients and separate the information about their behavior.
Increasing Your Sales
Search engine optimization (SEO) enables you to improve website traffic, which boosts your revenue. By improving your site's rating for content using keywords, SEO enhances lead generation. Potential buyers will see your content in search results when they use certain keywords, which will drive organic traffic to your website.
Regional SEO
With the use of local SEO methods, expand your local business. Increase your customer base and turn them into paying clients.
Online firms have seen a significant influence from local SEO. It aids companies in marketing their goods and services to niche markets. Every day, millions of customers use local searches to find the top companies in their area. If a user types in regional keywords into search engines like "Google, Yahoo," and "Bing," Depending on what the user requires, it offers the necessary information about products and services.
For instance, if a user wants to find restaurants in Begumpet or his current location, he will enter the keywords "restaurants in Begumpet or nearby my location." Therefore, only nearby eateries in Begumpet will be displayed in the search results.
Why is local SEO so crucial?
Local searches are the main focus of search engines like Google, Yahoo, and others. Based on the user's IP address, when a user searches for a brand on Google, it returns results that are relevant to that particular location.
As an illustration, when a user from India searches for something on Google.co.in (Google India), Google returns results specific to India. If a user names a specific city or region, Google will search for results in that area.
Other justifications for the necessity of local SEO include:
Users Turn to online searches to find better outcomes
What is happening right now? The era of the internet is now! People can look for pertinent information while sitting at home. Instead of going to the store and searching for it directly, people prefer to undertake pre-searching (e.g., use Google Local Business) to locate better possibilities in their city or area while they are making local purchases.
An outdated method of purchasing a laptop would be to visit a store and compare models. Modern people are selecting internet searches since they are more advanced. Users will utilize Google to look for a laptop in their neighborhood or location that meets their requirements and has extra features. Customers can purchase a laptop from a variety of online retailers.
Using local SEO for business extensions
With many add-ons like business listings, promotions, and marketing, local SEO can benefit your company. You may communicate with customers and solicit feedback on your goods or services by using local SEO. Reviews are essential to local SEO since they enable visitors to see customer reviews before making a purchase.
An online user is looking for a medical product, for instance. He will then read the reviews of that specific medical item before deciding whether or not to purchase it. It entirely depends on the reviews.
Establish a brand and long-lasting networks
Building a brand and producing engaging content for social media is crucial. Providing local customers with internet business listings is beneficial. Finding niche shops and marketers who offer the same services or sell the same goods also helps. You can communicate with other website owners and start a new business venture together for profit in the future.
Keywords with a High Conversation Rate that Target Local Areas
The majority of businesses use Local SEO to boost their visibility by ranking for queries that are related to their location. The majority of businesses use Local SEO to boost their visibility by ranking for queries that are related to their location. When compared to other promotional strategies, local SEO has a high discussion rate. It will make it easier for residents to find you online.
Mobile Internet Use is Increasing
Customers utilize tablets and mobile devices to find nearby businesses. In contrast to using desktop computers, the majority of US individuals look for local SEO on their smartphones or tablets. Internet connectivity on PC and mobile devices is covered by local SEO.
Adult Newspaper Readership is 15%
People no longer consume newspapers to read traditional advertisements. Surveys show that during the past 20 years, 85% of newspapers have seen a decline in readership. People are increasingly turning to the internet for local news and business information.
90% of local customers believe in online reviews of businesses.
One of the main factors in local businesses' success is word of mouth. With the aid of reviews, improve the internet reputation of your business. To draw in more clients, ask your consumers to submit favorable reviews of your company online.
Opportunities locally are free
Posting your website to Google, Bing Places for Business, and countless other internet business directories are free.
How Should Local SEO Be Done?
Numerous local tactics can assist with manual Local SEO. Obtaining a Google Place listing, which contains a phone number, physical address, and other details is the first step. Your company will be featured in local search engine results thanks to free local listings. Registering your company in local directories is a good idea. On the same page and in the same format as your local listings, your firm name, address, and phone number must appear.