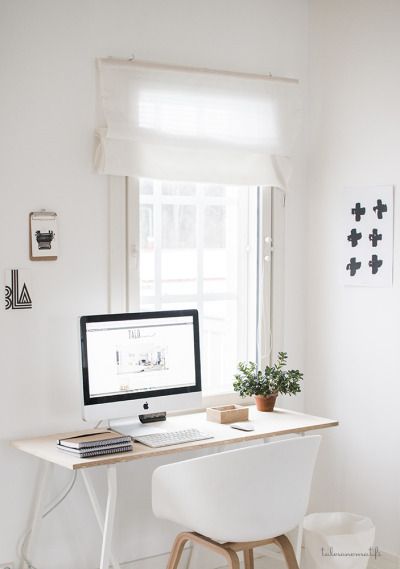 Do you dream of having a cool and comfortable work desk? Basically, everyone wants comfort at work. With the comfort you feel, the work will be easy to do and of course the results will be very productive. Therefore, several attempts were made to provide a supportive work atmosphere, one of which is by choosing a minimalist work desk or office table.
To get comfortable when working, basically you can get it from the existing furniture arrangement and also from the workspace lighting arrangement. In addition, the selection of a minimalist office desk is also very important. Even minimalist office desk designs are currently being created by many designers for various companies, both medium-sized companies to large companies.
Maybe at first every workspace or office was made in a simple way and generally comfort was not given priority. However, by selecting an appropriate work table, all these problems can be resolved properly. For the design model of a minimalist office desk, it is currently very diverse.
The ideal work table should be designed simply but able to provide comfort to its users. Thus, table users can work more focused. So, if you want to increase your work productivity, you can try to replace your old office desk with a new minimalist office table.
If you are still confused about the choice of minimalist office desk design that you can use, here are some recommendations for minimalist office desks that you can choose.
Modern Minimalist Office Desk Design
Modern minimalist office desks are the most widely used work desks today. This table is very suitable for use in a minimalist workspace. With limited space, this table can get rid of the boring impression. This table design is generally very long so it makes the work area more spacious. Meanwhile, there is a drawer that can be used to store the required document files.
This work table is perfect for those of you who work with computers, because the lower side is a special place for the CPU, and the top of the table is very supportive for placing the monitor, mouse, and keyboard.
This work table is very commonly used because it is quite simple and easy to place in various places or rooms. You can place it in the workspace and in the office lobby. With a modern minimalist look that is equipped with glass at the top, it will support the interior appearance of an office room to be more attractive and charming.
Modern minimalist office desk designs also have been developed with several types or models according to their needs. This table comes with an ergosit style, Chitose FTU, and partitions, which of course each model is designed to provide more comfort for its users.
Masculine Office Desk Design
Even though a table with a masculine design has a very simple appearance, this table is equipped with a number of functions that you really need. At the top is left plain to minimize distraction while you are working.
This minimalist work desk with a masculine design is equipped with drawers for storing documents and a special compartment for placing cables so that it doesn't get messy. In addition, there is a tray that you can use to put stationery.
This table is made of wood on the top combined with iron on the legs so that it is stronger. This combination gives a very prominent masculine impression which is supported by the use of dark colors.
Natural Office Desk Design
The natural office desk design offers a very simple style without being equipped with a storage tray. However, the appearance of this table will still be very natural, making it look very aesthetic. The basic material for the manufacture is natural textured wood combined with white so that it gives a very clean and bright impression.
Office Desk Design with Special Slots
This office desk design combines black with natural wood colors and textures. Thus, this table has a very attractive appearance with the legs that are made slim so that it is suitable to be placed in a home or office. For maximum style, this table is very suitable to be placed in a room that carries a modern interior design.
At the bottom there is a drawer for storing various documents, including a special path for storing power cables. While at the top, this minimalist office table is equipped with a special slot for placing electronic devices. Thus, the work table top will always look neat and beautiful.
Letter L Office Desk Design
The letter L office desk design is perfect for those of you who are accustomed to using various kinds of equipment in the workspace. In addition, this table is ideal for those of you who work collaboratively with two people at once. Even though the design of this table is quite simple, it is able to appear very aesthetically pleasing even without being equipped with details such as drawers or storage racks.
The material used comes from wood combined with iron material on the legs. The Letter L office desk will look very solid to use while working at the same time can be used to maximize the appearance of the corner of the office space.
All White Office Desk Design
The All white office desk design will give you a different taste with curved sides. This office desk not only gives a futuristic impression, but is very unique so it is suitable for use by workers who need a lot of files. The All white work table displays white in all its parts, giving it a very clean impression.
White never fails to create a minimalist style and a professional style. This neutral color provides a clean and airy effect, which will leave the mind free of all forms of hassle.
Rustic Office Desk Design
For a different work experience, you can choose a minimalist rustic style office desk . This table uses wood material that looks very old and is equipped with drawers at the bottom left and right. With these two drawers you can store documents and stationery. This rustic style work desk is perfect for those of you who want to give a new atmosphere in the workspace because it has a unique and charming model.
After knowing some minimalist office desk designs, you can make a choice for a table that you deserve to use in the office. However, you need to know that the quality of the workbench really affects the price. While the quality of each table is determined by the material and design of the table.
Besides that, you will also get comfort if you can combine it with the interior of the office room. Therefore, make sure you choose a minimalist office table that can be combined well with office interiors and other supporting furniture. You have to choose carefully so you can get the most appropriate table.