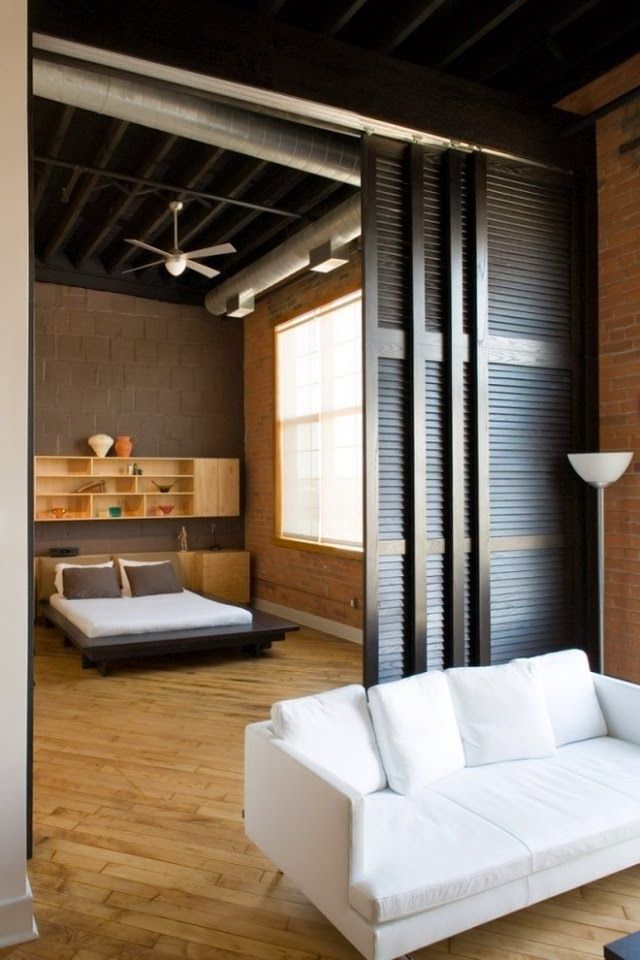 Small dwellings are synonymous with narrow and limited space, so they must be arranged so that they are well divided. You need to know that using walls will only make the room feel even more cramped and stuffy. Well, the best alternative is to use a multi-functional room divider to distribute several rooms. This time, we have 12 room divider ideas that are really useful for beautifying your home.
Various Room Divider Ideas
1. Curtain or Cloth
Curtains or fabrics are the most widely used room divider ideas because they are very simple but still attractive. One of the reasons is because this material is very easy to find and obtain anywhere. Besides that, the fabric curtain material is also easy to install, so you don't need to spend extra energy.
The use of curtains as a room divider can help you to create a room that is quite private in another room. Another benefit of the curtain is that it can also be used to act as a divider between the bed and the storage area for clothes, the bathroom, or the child's bed.
2. Folding divider
You may find the curtains or fabric material less conducive to use as a divider. No need to worry, wood material can also be a fairly easy alternative to obtain and even the plus point is that wood has a more attractive and cool appearance. One example is the folding divider.
In addition, you can also adjust the model of this folding divider with the concept of the room in your residence. You can use this folding divider when you need it. So when it's not in use, you can fold it and save it.
3. Horizontally Arranged Wood Dividers
In addition to folding dividers, there is another room dividing idea using the wood material. Interestingly, you can even make this room divider yourself. The method is simple, you just need to install the wooden blocks horizontally. Apart from functioning as a divider, this idea can also make your room look even more unique and cool.
4. Industrial insulation
Don't hesitate to apply the concept in your workplace as a room divider idea. If you work at an industrial company or really like industrial-style designs, try this one insulating idea which is guaranteed to give a factory impression to your home.
This industrial divider uses material from iron which can be shaped according to your wishes. For example, you want to arrange them horizontally and vertically, resulting in an iron border with a checkered shape. This idea will make the divider in your living room more clearly visible.
5. Bookshelf
You can also use the furniture in your home as an idea for a room divider! For example, you have a bookshelf, then try to make it as a divider. This idea will also make the boundaries of the two different zones in the room more clearly visible.
The rows of books arranged on this shelf will also give a special impression of your room concept. In addition to bookshelves, you can also use other furniture such as sofas, cabinets, or cabinets that are not too high.
6. Plant Shelf
This one-room dividing idea may sound quite weird and has not been applied too much. But this idea is actually not much different from using a bookshelf, because it is also multifunctional. Where the plant shelf not only functions as it should but is also used for other functions.
To implement this one idea, you can use a room divider like a plant holder which is commonly called a plant shelf. Apart from functioning as a place to arrange plants and as a room divider, this shelf will also give a beautiful, fresh, and natural impression in your home.
7. Insulation from Glass Material
If you are bored with wood or iron material, you can also use glass material to insulate your room. One example is using frosted glass as insulation.
It would be even better if you patent the position of this frosted glass or in other words, it is fixed permanently on the ceiling to the floor so that it does not move.
8. Take advantage of natural materials
You can also use room dividing ideas in the form of natural materials as a divider in your room. Especially if you like anti-mainstream things and all kinds of unique items. If you had time to discuss plant pots for room dividers, there are other natural materials that you can use such as decorative waterfalls, natural stones, and others.
This room divider using natural materials will also give the impression that your room is not stiff and creates a comfortable atmosphere. In addition, this divider can also be a decoration that makes your home more beautiful.
9. Aquarium
Or if you have thought of an ornamental waterfall as a room divider, why not try the aquarium appearance? In fact, you can also use it as an idea for a room divider that is multifunctional and successfully beautifies the room at home.
You can apply the use of an aquarium as a room divider if you want to separate the living room and family room, for example. So whether you are sitting in the living room or in the family room, everyone can enjoy the view of ornamental fish in the aquarium.
10. Paper divider
Who says paper can't be a room dividing idea? Even materials that are often used as materials for crafts can also be made in such a way as to produce a unique room divider.
An example of a simple idea about a paper-based room divider is paper that is cut into pieces following a certain pattern, for example, a round pattern, then the pattern is connected and glued on the wire. Lastly, you just hang it from the ceiling.
11. Mosquito nets to separate large areas
If there is a large enough space in your small house, a mosquito net can be the right space dividing idea. You can choose open or closed mosquito nets, both are okay. Take advantage of wooden beams on the ceiling to hang the mosquito nets. This appearance is indeed almost similar to the curtain material as a separator, but with this wide fabric, it will increasingly display a natural impression.
12. You can also combine wood and glass as a room divider
Living in a limited space doesn't mean you can't present a cool and attractive workspace. You can take a certain space, for example, the living room. Just leave a little area for the workspace in the living room, then separate it using a combined wood and glass divider. That way you will have a living room that is integrated with the workspace at the same time.
Those are some room divider ideas that are suitable for your small residence. Do you have any other ideas?