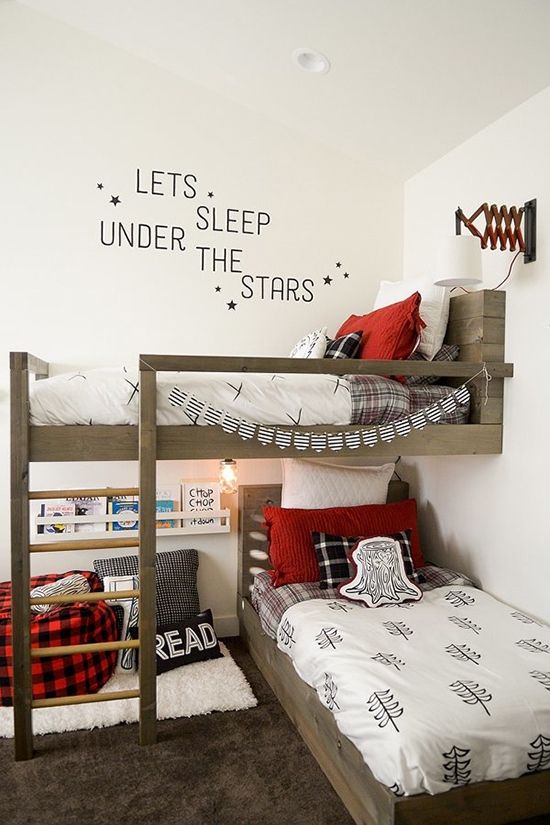 Have a bedroom that is not too large but can be used to rest even though the number is more than one person? So the bunk bed is an option to answer that question. The multilevel design makes it take up less space when placed in a small room. The impression of space and relief will be felt even though the room is small in size.
Not only for visiting families, but you can also apply bunk beds to your child's room. Of course, it's a bit troublesome to make additional rooms if your house is not too big. Therefore you can get around with bunk beds if you already have more than one child.
Here are tips for choosing a bunk bed
1. Adjust the bunk bed with room conditions



Even though the space used is large or small, you better calculate the floor area and ceiling height of the room first. The height of the bunk bed is also measured so that the upper bunk bed has a distance from the ceiling height. In addition, the floor area is measured so that later you can determine the type of mattress for your bunk bed, whether choosing a single or double mattress type.
2. Adjust the bed with the theme of the room
If you have given this small room a theme, then you can adjust the appearance of the bunk bed to make it look more attractive. For example, the design of this small room has a minimalist theme, then use a bunk bed that has a minimalist design, such as a bunk bed made of wood. The use of color is also very influential so that your room looks more colorful and less monotonous.
3. Choose a bunk bed with the best material



Use a material that is strong and durable considering the human weight is quite heavy. Usually, the material used is wood or iron. For wood, there are two types, namely solid and laminate.
Solid wood which is usually used for bunk beds uses wood such as teak, mahogany, pine, and others. Solid wood has a soft grain and rough knots on the surface of the wood so it can give a warm feeling in the room.
Meanwhile, laminated wood has a slightly lower quality than natural solid wood. However, usually laminated wood is attached to particleboard, a type of rubberwood so that it is not easily warped or damaged. Besides that, laminate wood is very easy to clean.
4. Try to choose a sturdy ladder and bunk beds with protectors
Safety factors must also be considered, such as the side protection frame, as well as the head and toe cap protection frame. This is so that you don't fall while you are sleeping. Try to choose a height for the frame starting from 25 cm. Also, make sure that the protective frame uses a sturdy material so that it can hold your body.
Do not forget to also pay attention to the stairs leading to the upper bunk bed. Look for a ladder that is not too far apart, with a stable footing and handrail. This is to keep someone who wants to climb the upper bunk from falling.
You can make some of the bunk bed designs below for your limited size room.
1. Bunk bed not parallel to the wardrobe
This multifunctional bunk bed is made not close together. The lower bunk bed is attached to the wardrobe and has a storage drawer underneath. At the top of the wardrobe is made an upper bunk bed which will cover part of the lower bunk bed.
2. Minimalist bunk bed
The design of this bunk bed is quite simple because it uses a wooden frame that has been given white. With decorations and furniture using dark blue colors, the artistic minimalist impression looks so strong in this room. In addition, the impression that makes the eyes comfortable will make you feel at home for a long time in the room.
3. Three Level Bunk Bed
The bunk bed design also looks simple because it uses a wooden frame that has been given a beige color. If the usual bunk bed is made only up to two levels, then this bed is made up to three levels. It is quite high, but it can be applied if the distance between the floor and the ceiling of the house is still adequate.
4. Bunk bed with extra bed
This bed also looks classic but aesthetic because it uses materials from wood that have been painted. Made on two levels, the lower bunk has free space that can be used to put an extra bed. This bed is ready to accommodate 3 people who want to rest.
4. The bed is made to hang
This bedroom design is very simple. Only use a cot (spring box) that is sturdy and attached to the wall. On the wall is given an empty space that is used to put items. Likewise, with the upper level, the only access is the stairs that are used to get to the bed.
5. Bunk bed with elegant minimalist design
This bunk bed has a minimalist design that looks natural yet elegant. This can be seen in the use of wood that has been plastered and uses white paint. This bed looks more classic because it is placed on the floor using wood. The area of ​​each tier is so spacious that this bunk bed looks very high. There is even free space that can be used to put items or decorations. In order not to be monotonous, furniture such as beds or carpets uses a combination of green and blue.
6. Bunk Beds with Hanging Straps
This bunk bed design is suitable for those of you who have an adventurous spirit, like calm nuances, and prioritize aesthetic values. To present the concept of a hanging rope like this, make sure you use a strong rope like a thick rope and don't forget to also adjust it to the size of the bed. Now to make it look even slicker, you can add a bean bag, hammock, or pillow chair.
7. Monochrome Bunk Beds with Efficient Ladder
One more thing that you need to pay attention to if you want to present a bunk bed, namely pay attention to the shape of the hanging ladder. Because this is quite disturbing for everyone who needs to climb the stairs first to get to the top. Now you can apply the climbing-friendly ladder concept, here. Moreover, blending with the combination of black and white, a la monochrome, that spoils the eyes, is guaranteed to make the atmosphere more comfortable.