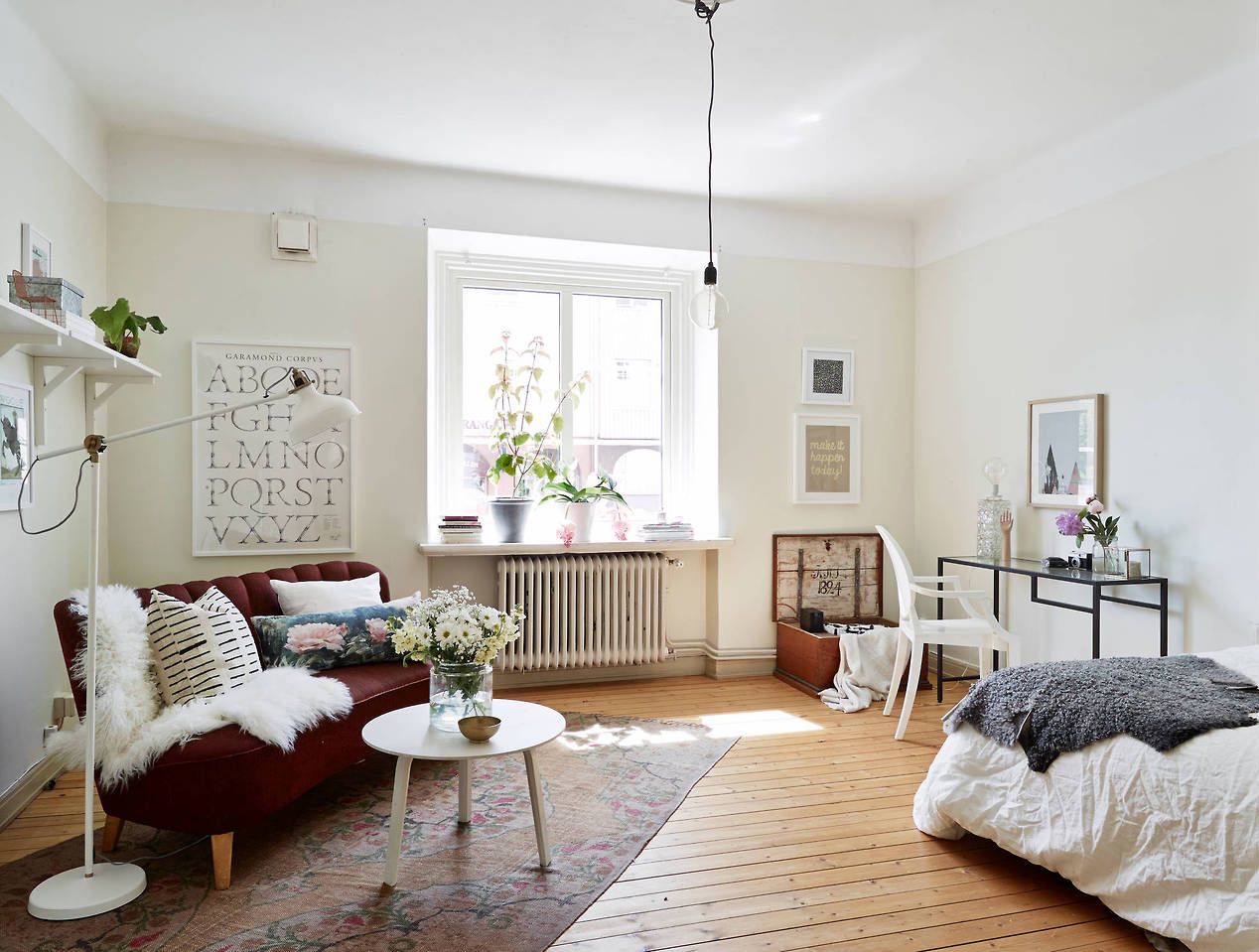 Living in an apartment is the choice of single millennials who try their luck in big cities. Apart from its strategic location and the various facilities it has, the more affordable rental prices for studio apartments also make it a wise choice.
Unfortunately, studio apartment space is very limited. Therefore, you have to work around this by only putting in certain items. Here are 10 pieces of furniture that you must present in a studio apartment so that your residence remains comfortable.
1. Vertical or Horizontal Stacking Rack
Using stacked shelves that can be arranged vertically or horizontally is a wiser choice than using large shelves or cabinets. Because in addition to reducing the cramped impression, you can also arrange the shelf in a separate room and make it double as a bench or storage table.
2. Stacked Chairs
A studio apartment does not allow a large sofa to be filled. But that doesn't mean you can't have a chair. You can work around this by using chairs that can be stacked in the corner of the room.
So when your friends come and need them, you just have to pull the chairs one by one. Another way, you can also use a chair that functions double.
3. Large mirror in the middle of the room
A large mirror will give a large impression in a narrow room. Therefore, it is the right choice to bring a large mirror when moving to a studio apartment.
You can hang the mirror in the middle of your apartment room, to give the impression of a spacious and brighter room. Or position it across from the window, to maximize the reflection of light from outside.
If you don't like a large mirror, you can also use 3 smaller mirrors. Arrange the three mirrors lined up on the wall of the room. You can get a similarly broad and light feel this way.
4. Small size armchairs
Armchairs are indeed more comfortable to use in a chair without arms. However, the size of the armchair that tends to be large will fill the space of your studio apartment. So it will be faster if you use armless chairs to fill the apartment space.
Even so, you can still get around the armchair to be present in the residence, namely by looking for a small size with an attractive design.
5. Hidden Storage
The limited space in a studio apartment makes you unable to have a lot of storage area. However, items that are not neatly arranged in the storage area will make your apartment space look cluttered easily.
Using smaller storage spaces such as boxes or baskets placed on the floor is sometimes not a pretty sight. The solution, you can create a hidden storage area.
For example, a storage rack behind the door or under the bed. Hidden storage places like this will help keep your apartment looking tidy, but didn't add to the stuffy atmosphere. Minimalist impression.
6. Multifunctional Furniture
The use of the right furniture is the right solution for those of you who live in studio apartments that have limited space. Only use furniture that is necessary, and try to use furniture that has multiple functions. That way you will still have the furniture you need, but also didn't take up your apartment space.
You can use multifunctional furniture such as:
The ottoman chair, which you can use as an extra sofa or chair, or also turn into a coffee table.
Sofa table, which can serve as a dining table or be converted into a work table.
A sofa equipped with a shelf.
Bench, which can function as a dining chair, coffee table, or cabinet.
7. Bookshelf
Bookshelves are usually small in size and come in many shapes and colors. In addition, usually, bookshelves have an attractive design, so that it will add an artistic nuance to the studio apartment space. And of course, it can make your apartment have a neat storage area and didn't take up space.
You can use the shelf as a room divider, or keep it attached to the wall. You can use it as a breakfast table, or a sofa table. Or you can also use it as a work area, by storing your laptop and printer on the shelf.
8. Maximum lighting
Bright light can also help your space look spacious and away from being gloomy. For that, you need to maximize the lighting in your apartment.
One effective trick you can apply is to place a lamp behind the bed. In addition, you can also use lights as an element of decoration, which makes the apartment space artistic or romantic.
9. Floating Shelves
Floating shelves are shelves attached to the wall. Utilizing the wall area is the right choice to maximize the use of your apartment space.
You can attach several rows of shelves in the corner of the wall, and use them as a storage area for books and several small and light items. Shelves like this will give a minimalist impression of the studio apartment space you live in.
10. Bright Paint
Bright paint colors can give the impression of "away" when viewed so that it can create a bigger and wider impression in the room. On the other hand, a dark paint color will give the impression of "approaching" so that the room will even have a small impression.
Bright colors will also create a cheerful impression, unlike dark colors which give off a gloomy impression. Therefore, choose bright colors to apply to your apartment space. Also, adjust the color you choose with the furniture you have. We recommend choosing bright, neutral colors.
So, those are some items that you should bring when moving to a studio apartment. At a minimum, you need the items above so that the impression of the apartment you live in is still comfortable.