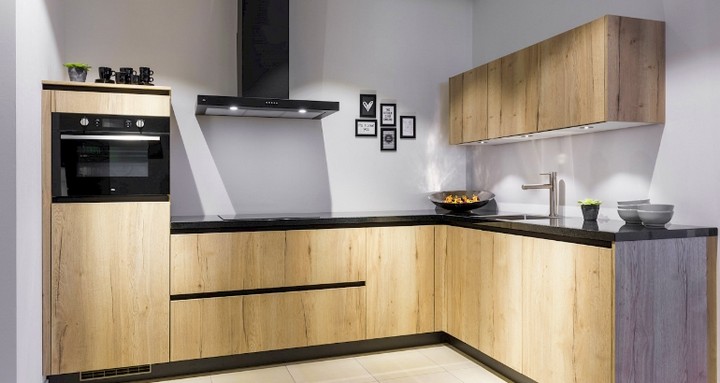 In addition to the bedroom and family room, the kitchen is an important room in the dwelling. It is in the kitchen that food is served on the dining table after cooking. It often becomes a space to tell each other. Therefore, we try to make the kitchen space as comfortable as possible.
The problem is when we only have limited kitchen space. For example, if you live in an apartment. Now to get around this problem, we can choose a hanging kitchen cabinet. Besides being able to make the kitchen tidier, this method also really saves the kitchen space of your apartment.
Space-saving tactics with hanging kitchen cabinets
When choosing kitchen cabinets, there are several tactics that you can apply so that the room doesn't look cramped. Especially about the placement and choice of color.
Use the space above the stove and sink. So the space used is parallel to the place for cooking and washing, it does not take up other space. It will be especially useful in studio or residential units with small kitchens.
Choose a cabinet with sliding doors or upward opening. So that when you open the door it doesn't feel like it takes up space, choose a cupboard with a sliding or upward opening.
Choose a Neutral Color. Neutral colors like light brown are indeed the safest because they don't make the room cramped. Better yet, if the color can be similar to the walls. The kitchen will feel roomy and less partitioned.
Hanging Kitchen Cabinets Design
If you have a location where the kitchen cabinets will be placed, we can choose several hanging cabinet designs as follows:
1. Hanging Kitchen Cabinets With Dish Racks
For studio or 1 bedroom apartment units, there is usually only a small amount of space left in the kitchen. Owners usually avoid various kitchen utensils. At most, only the equipment used to serve simple food. Including glassware.
To store dishes, you can choose a small wooden hanging rack. This type of shelf is mounted on the wall. There are narrow dividers that can be used as a place to store plates and various other glassware.
2. All-White Cabinet, Wide Viewing Space
White is one of the favorite colors in the kitchen, because it looks clean. In addition, white is also very suitable for use in kitchens that are not too big. This color gives the effect looks wider.
You can choose a white kitchen cabinet with a minimalist design to save space. This kind of hanging cabinet material is made of MDF particle board that can be assembled and disassembled. There are also those made of wood.
3. Choose a Color That Match With the Wall
Another way to keep your tiny kitchen from looking overcrowded is to play with colors. Choose a kitchen cabinet with the same color as the walls of the house, so it doesn't seem too crowded and the kitchen becomes tidier.
The colors don't have to be exactly the same, but they match. This gives the effect of a wider room. Even eating and cooking utensils can be stored neatly and not messy.
The material chosen is usually made of MDF or wood board. This design is perfect for a small kitchen in an apartment.
4. Choose Metal Material If You Like A Modern Look
Do you like the modern look of a professional kitchen in a restaurant? This view can be applied at home, you know. It doesn't matter if your kitchen is tiny, because it can be tricked by using a hanging cupboard.
To get a modern impression, choose a metal cabinet. You can choose stainless steel or aluminum. Apart from being futuristic, the choice of cabinet with a door will also make your interior look neat.
5. Metal Hanging Kitchen Cabinets Open Up
Still for those of you who like modern kitchens, hanging kitchen cabinets that can save space are also made of metal. The difference is, the door opening is not to the side like a cupboard in general, but upward.
This type of door opening upwards can save space so that the kitchen does not seem crowded. Especially if there are 2 or more people in the kitchen at the same time. The door that opened upwards would not interfere with the movement of other people.
6. Cupboard and Kitchen Set on One Side
One way to save space in the kitchen is to center the kitchen on one side of the wall. So the kitchen hanging cabinets and all kitchen sets, stoves and other cooking utensils are placed on one side of the wall. This will save kitchen space and take up less space.
If you choose this design, you will have flexibility in choosing colors. Including using bright and colorful colors. But if you prefer soft colors like pastels, that's fine too. The cabinets used can be made of MDF board or wood.
7. Hanging Kitchen Cabinets Corner
If you have a narrow kitchen space, don't choose furniture that takes up space. Make the best use of space so you can save space and the kitchen still feels spacious.
One way is to use a kitchen cupboard that hangs in the corner. The cabinet is designed to take advantage of the side of the wall, so that no space is wasted. The elbow part of the wall can still be used as a storage area. So save space, right?
You can choose bright and eye catching cabinet colors, dark colors, or pastels. All can be adjusted according to individual tastes. Usually this corner hanging cabinet is made of MDF board or wood.
8. Kitchen Cabinets with Mirror Layers
Kitchen cabinets can save space because all eating and cooking utensils are neatly stored in one place. By storing utensils without a cupboard, the risk is that it is easier to get dirty and even takes up space. The kitchen will look messy and unsightly.
For a small kitchen in a studio apartment unit, for example, choose a hanging kitchen cabinet whose exterior is covered with mirrors. Mirrors are known to make a room appear wider. Items are stored neatly and can save space, the kitchen is also clean and orderly.
9. Hanging Kitchen Cabinets in the Middle of the Room
If the side of the kitchen wall is full but still there are cutlery and cooking utensils left, how do you fix it? Adding a cabinet will definitely take up space.
No need to panic first, because there is a solution, you know. you can install a hanging kitchen cabinet in the middle of the room. That way, it won't take up space and make the kitchen look full.
Choose a cabinet whose color matches the entire kitchen set. Or choose a color that matches the wall. If possible, also choose a cupboard that is partially open or just a shelf. So the view towards the kitchen is not completely obstructed.
Hanging kitchen cabinets can indeed be the right choice for those of you who have limited kitchen space. But not just like that, the design must also be right. So, which one is your favorite?