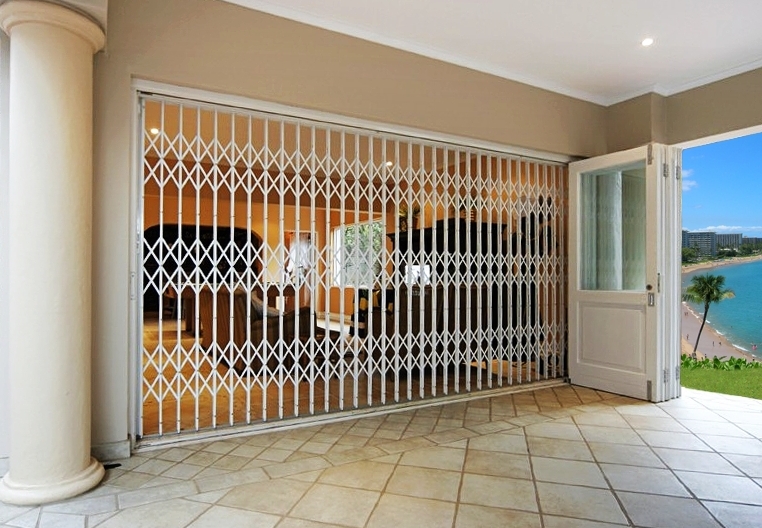 Even though we have relied on door locks, the residential security system is actually still not completely secure. In order to provide multiple layers of security, the use of door trellis is highly recommended.
Usually the trellis is used only for windows. But even for doors, using additional security like this is not a bad idea. Of course the risk of theft can be minimized thanks to this dual security system.
Best Door Trellis Model
Currently, the door trellis model has many variations. Starting from the classic style to modern minimalist. Materials that are generally used as door trellises are very diverse.
Generally, people like to use iron and steel because of their unquestionable strength also durable. However, the use of aluminum has become increasingly prevalent for trellis. The following is a complete reference for the door trellis model.
1. Oriental Trellis Door
The new nuance of your home will be very visible with an oriental model like this. The trellis model is so unique because it carries an oriental nuance. Besides that, the application of dark brown color also makes the nuance more attractive.
This oriental trellis model will also create a magnificent impression on the main door. Of course, besides being magnificent, the home security system is even more guaranteed with the commonly used iron or steel material.
2. Wooden Trellis Door
If you want to get the impression of a natural residential feel, a wooden trellis is suitable for you to choose. Indeed, apart from steel, iron, or aluminum, wood is another attractive material choice for trellis.
You can apply the wooden trellis model to the sliding door and main door models. Make sure the wood material selection is the best.
Because, a fragile type of wood will make it easy for termites to eat so it doesn't last long. Don't forget to combine the right paint color with the exterior of the house so that the appearance of the house is more attractive.
3. Aluminum Model
If steel or iron trellis has a high cost, the selection of aluminum trellis can be another alternative option. Even though the price is more affordable, the protection provided by this material is not inferior to iron or steel. In addition, the design variations are also very diverse.
This is because aluminum is one of the most malleable materials due to its flexible nature. Apart from the attractive model, in terms of durability it is fairly good. You also don't need to pay extra for maintenance.
4. Classic Doors
Classic trellis doors are generally made of iron. This is because iron has a good thickness, so it is considered safer. Moreover, classic door models are generally used in luxury homes.
However, the trellis model with this unique carving is also suitable to be applied to a small house. So that the appearance of the doors and trellis is still pleasing to the eye, mix the color of the trellis with the exterior appearance of your home.
5. Laser Cut Trellis
This one door model is made with a laser cut technique which is of course different from other designs. For those of you who crave a modern-style residence, this choice of trellis is perfect to try. Because it is made by a laser cut process, you can choose various kinds of motifs according to your taste.
The material is quite varied. Available GRC material, metal, wood, to iron. Everything can be adjusted to your budget plus the level of security you want.
6. Vertical Cross Door
This one model trellis door will make the door look more solid. Of course, thieves will be lazy to infiltrate your house. The appearance is also so charming with a combination of crosses and vertical lines.
The combination of this vertical cross will also make it difficult for your hands to reach the door hinges. No wonder because of its proven safety, vertical cross trellis models are often applied to warehouse doors to luxury homes.
7. Thin Trellis Doors
At first glance the thin door trellis looks ordinary. However, the thin model is able to minimize the movement of people when opening the door hinges. Of course uninvited guests will find it difficult to enter with this trellis model. In designing it, you just need to play with the distance between the vertical lines to be tighter.
You can ask for this trellis door design with a distance of each line that is only the width of the index finger. The aesthetic impression can still be seen with the minimalist and modern model.
8. Iron Trellis Door
Apart from steel, iron is another material option that you can use for trellises. The characteristics of the malleable iron make it easy to form into various models. Of course, besides being guaranteed safety and strength, you will get a variety of attractive trellis models.
Besides being able to be used on doors, you can also match iron trellises with windows so that the outside appearance of the house will be even more beautiful.
9. Minimalist Trellis Doors
For lovers of minimalist designs, there is no need to worry because the trellis model can be designed simply but still modern. The simple trellis appearance can be seen from the lack of carvings and ornaments. However, in terms of strength, it is not inferior to other trellis models.
Generally, this trellis model has neutral colors. Like white or black. You can also choose a black vertical trellis to make it look more modern and luxurious.
10. Modern Door Trellis
Not only classic and minimalist, door trellis can also be designed with various modern models. For example, with the shape of leaves, flowers, or even just a simple vertical line. In addition to security guarantees, the use of a trellis also serves to add to the aesthetic appearance of the house.
Because of its modern and varied shape, generally the use of this door model adopts a material that is easy to forge. Starting from steel, iron, even aluminum. In terms of price, it is quite flexible because it depends on the material you will choose.
11. Trellis Door Light Color
Door trellis are not only neutral or dark colors. If you want to look more different, try using light colors on the door trellis. For example, a combination of white and yellow, orange, green, to red. Don't worry, the light color will interfere with the aesthetics of the house.
Because, if combined with the right color, of course the appearance of the house will be more attractive. In addition, different colors will make the residential feel look more modern and not monotonous.
12. Horizontal Door Trellis
You can design not only a vertical model or a vertical cross, you can design a door trellis with a horizontal model like this. This one trellis model is indeed very simple because it only relies on the horizontal concept from top to bottom. For those who are happy with simple concepts, this horizontal trellis option is suitable to try.
From a security point of view, it is fairly good. Because, you can close the trellis lattice so that other people will have a hard time reaching the doorknob. Material suitable for this trellis model can be iron or steel.
So, there are several choices of door trellis models that are not only cool in terms of model, but home security will be guaranteed. Hopefully useful and inspiring.