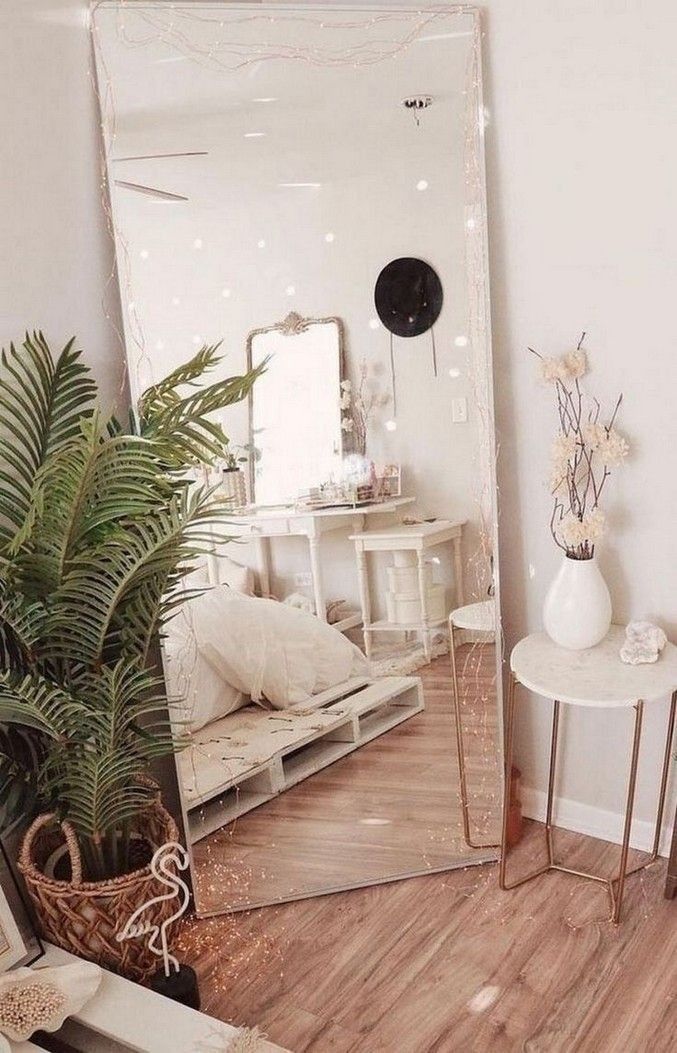 Inspiration for a Beautiful Glass Mirror Model for Your Home
The function of the mirror is not only to see the reflection of yourself! However, installing mirror glass in a house with a certain concept and shape can be an element of interior design that makes housing more attractive.
Uniquely, it is not uncommon for aesthetic mirrors to make a room's interior look more vibrant and multifunctional, and space-saving. The presence of this home decor can join cabinets, cabinets, and even doors!
Well, in the following section, we have several models of mirror glass that you can inspire to make the room in your residence more attractive. All of the models can also be used in various room concepts, from Japandi designs, classic, minimalist, to modern ones.
Guest Welcome Mirror
Japandi house models that combine Japanese and Scandinavian themes often feature a foyer which is a connecting area between the house's entrance and the main room. Well, so that the foyer area is more attractive you can add mirrored glass.
Our suggestion, make a mirror that joins the shoe cabinet in the intermediate area to make it more space-saving. Guaranteed, the guests who come to your house will be amazed by this multifunctional mirror!
Floor Mirror Glass
Displaying a large mirror on the wall is common. Therefore, so that the atmosphere of the room is more lively and intimate, you can try to put a mirror that should be hung on the wall to be in the floor area. The results will certainly blow your mind because this idea is so brilliant for creating an aesthetic space!
Mirror Glass and Wardrobe
This mirror glass is clearly multifunctional. Not only for the mirror, but this mirror glass also functions as a wardrobe door that will make your bedroom look more spacious. The concept of joining this wardrobe can also be the right space-saving idea if you want to make a small room beautiful and neat, especially when combined with Japandi designs that prioritize efficiency and aesthetics!
Mirror Glass as a Door
Have you ever imagined how cool it would be if the door to your room or house was given a mirror the size of the door? It must be very practical and multifunctional, yes.
First, you can always look at yourself and make sure of your appearance every time you want to leave your room or house. Second, the room in your house will seem wider and brighter. One more thing that is no less important, the mirror as a door is also very charming and makes anyone who sees it amazed.
Mirror Glass in the Middle of the Cabinet
Do you still think that the round mirror looks old school and far from an aesthetic impression? Try to display the mirror in the middle of the cabinet! In addition to being a reflector, this method can make it a very attractive interior complementary ornament. Get ready because you will often look to the area.
Mirrors that expand the room
Display a wall-sized mirror, why not? This idea will make your room look wider and of course attractive. So that it doesn't look too lonely, add a list or black frame so that the large glass seems to be divided into several parts. You can apply this mirror glass model as big as a wall in various home interior concepts, from Japandi to modern contemporary.
Mirror Glass with Unique Shape
The mirror doesn't have to be round or square. You can use a unique shape to make the room look more beautiful and attractive. If it is difficult to find a unique shape, you can arrange several square-shaped mirrors randomly. The result? The mirror glass looks very aesthetic and has its own artistic value. You can also stick it on the living room sofa so that it becomes a focal point.