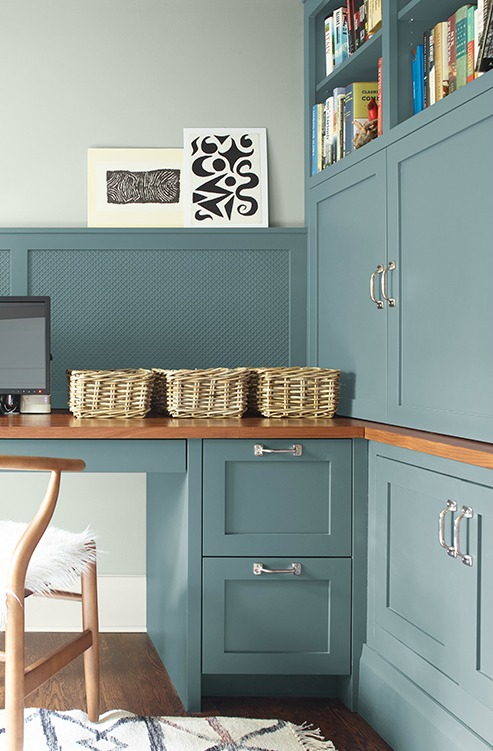 For those of you who like to cook, you definitely want to get a mood booster by having a bright kitchen so that you keep your enthusiasm for a cooking while at home. The most effective way to achieve this is to give a new paint color to your kitchen area.
Several color choices are able to give the impression of a room that is bright compared to other colors. To find the right color to brighten up your kitchen, let's first check out the idea of a bright kitchen paint color version of the latest color trend in 2021.
Blue
Included in one of the 2021 color collections called
Rediscover
, the paint 
brand 
Jotun
 introduced 
Crisp
 and 
City Shape
 which are included in the blue color palette. This color choice will be perfect if you want to build a modern 
vintage
 atmosphere in your kitchen. Coupled with the 
newtro
 trend which is still a 
steady seller
until now, the kitchen not only looks bright but
trendy
 and 
stylish
 as well.
Light Brown Color
The 
Dulux
 version of the 2021 color trend presents 
earth tone
 colors with the collection title, 
Brave Ground
. If you want to create a soothing feel of space while highlighting your favorite cooking utensils in your kitchen, 
Timeless
 or light brown is the right choice to be the base color in the 
pantry
area. It looks simple, but it can bring out the adorable accents in the kitchen room.
Dark Brown Color
Still, in the brown color spectrum, a choice of dark brown shades called
Earthy Brown
 from Jotun is suitable if you like natural-style interior products or like exotic Middle Eastern themes. Color choices that tend to be dark like this need special applications to keep the kitchen looking bright. If your house has large 
floor-to-ceiling
windows, this dark brown color will be interesting to apply as an interior accent for the kitchen on the 
backsplash
wall.
Pink
An interesting idea to brighten up your kitchen area is to combine two hues that lie between red and purple, such as 
Burning Sky
 and 
African Glow
 from Dulux's 
Color of The Year 2021
collection. Seem soft, these two colors are suitable for kitchens with high
ceilings
.
White color
Still popular today, white colors like 
Doff White
 from Alkycoat Paint are a color choice that will continue to create a 
trendy
 impression to use in your kitchen. This color can be applied to the walls and doors of storage shelves located in the kitchen.