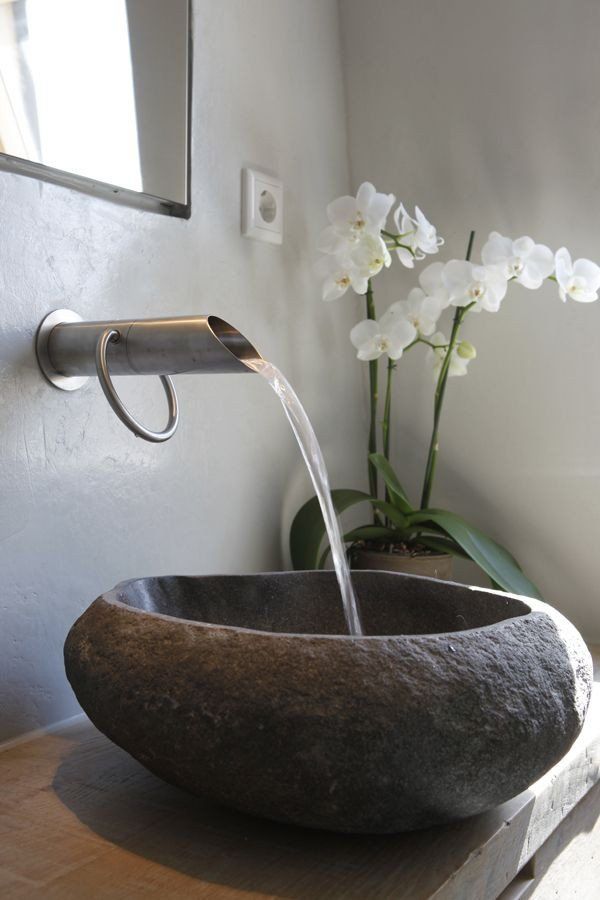 The washbasin or what we often know as the sink is one of the main elements in a house. Based on the function and place, the sink is divided into two, namely, kitchen sink and bathroom sink.
As the times evolve, the sink design must be able to integrate with the overall design of the house. This adjustment is made so that the room looks more beautiful and comfortable.
So if your sink design is out of date, it's time to give it a touch. Trust me, a little change in the shape of the sink will give it a fresh new look. Here are some ideas that you can apply.
1. Cast glass sink design
This first sink design is made of cast glass or cast glass which forms a basin so that it looks very elegant. Cast glass washbasins are usually decorated with artistic patterns inspired by some world-class art.
At first glance, this beautiful sink resembles a luxurious, clear swimming pool. Of course, a cast glass sink is useful for adding an artsy impression to your home bathroom. Its guaranteed, the design will make the bathroom the center of attention.
2. Floating sink
For those of you who like a minimalist concept, this sink design will be suitable for application at home. This sink that looks as if it hangs a wall can enhance the appearance of a room.
You only need to add a few other objects, such as mirrors and simple lamps to enhance your appearance.
3. Standard sink modification
This semicircular or basin-shaped sink is the simplest standard model. This sink design is usually affixed to the wall with a drain pipe attached as well.
A standard sink like this is the most suitable for a minimalist bathroom with limited space and size. The modification lies in the faucet and drain pipe which have different colors so that this model sink looks artistic and attractive.
4. Glass bowl-shaped washbasin with a natural feel
The bowl-shaped sink is a unique sink model that is quite popular with many people. This model is shaped like a large plate or bowl that can be placed on a table. A bowl-style sink base is usually a wooden board or table to add a natural impression in the bathroom.
An elegant basin based on glass with charming ornaments, makes the beauty of this sink cannot be denied. Especially when you get lighting from above which makes the bottom part of the glowing beautiful light pattern on the surface of the glass.
5. Standing sink
The next sink design is a leg model or commonly known as a standing sink. The sink of this model is designed at the same time with its hidden water drain. If you look closely, the sink leg is a drain that is wrapped in the main sink material, namely ceramic.
A design like this aims to make the sink look more attractive than the standard model that shows the plumbing. If you are bored with a standing sink in general, you can choose a design with legs that resembles a giant vase.
6. Washbasin design from wooden countertops
Among the many designs, this one sink is the most unique. The reason is, the base is flat like a table. In fact, it looks even more beautiful and attractive with a basin made of stainless.
You need to know, a sink like this never fails to show an artistic side and seems natural and classic.
7. Multifunctional washbasin
This cool sink design integrates with a cutting board as well as a vegetable slicer. Not only beautiful, the sink that is suitable to be applied in this minimalist kitchen is also multifunctional.
However, don't forget to pay attention to the position of the sink. It would be nice, if you place it not too far from the kitchen to save on the cost of installing plumbing materials.
8. Sink cabinet
If you want a sink with an anti-mainstream model, then you can consider a cabinet sink. Apart from being artistic, a sink like this is classified as multifunctional because the bottom part can be used to store other objects.
Usually, this sink has a built-in character or all of its parts are in the cabinet. This sink certainly looks tidier because the drain pipe is hidden in the countertop cabinet. It looks very fashionable, modern, and minimalist at the same time.
9. Washbasin design from natural stone
If you prefer a natural look, you should choose a sink made of natural stone. Usually, a sink with materials like this is unique and attractive.
In fact, it could be that the shape between one tub and another is different because of the material used. A model like this is most suitable for use in a minimalist room with a limited area and size.
10. 
Washbasin with deep sink concept
For those of you who have a hobby of cooking, definitely have a pile of dirty furniture after cooking and dining with friends and family. That way, you definitely need a sink with a deep sink design.
This deep sink concept prevents piles of furniture from falling and prevents water from splashing in all directions. The design is always simple and sleek, so it fits perfectly in a clean kitchen in a modern minimalist style.
11. Design a stylish sink 
rustic
The design of the sink from brass material may not be as popular as ceramic or stainless steel material because it looks shabby. However, a sink like this will look suitable for a rustic style house .
The shape is round and combined with wooden planks. The results are simple but still stunning.
12. Washbasin with geometric design in bright colors
The use of monochrome colors on the sink, such as black and white, is likely to get bored easily. However, you can try to solve it by combining the right combination of bright colors.
You can combine a white sink with a Tosca geometric ceramic wall so that the minimalist impression still stands out without being monotonous.
13. Anti-mainstream wood sink
Who says wood can't be used for a bathroom sink? In fact, a minimalist sink made of wood actually looks unique and attractive.
In fact, this one sink can last quite a long time if cared for properly. We recommend that you use solid wood materials such as mahogany and teak so that the sink is not easily damaged even though it is exposed to water every day.
14. Beautiful ceramic sink
Some people prefer to play it safe when choosing a sink. They generally prefer white sinks because they are easier to match with simple decorations.
However, if you are bored with designs like this, then there's nothing wrong with trying to choose a sink with bright colors and attractive patterns like the ceramic sink. Believe me, simple touches like this can make a bathroom with a minimalist design feel more alive.
So, those are some artistic sink designs that you can use as a reference for a contemporary style house. There's nothing wrong if you want to be a little creative with the sink at home.