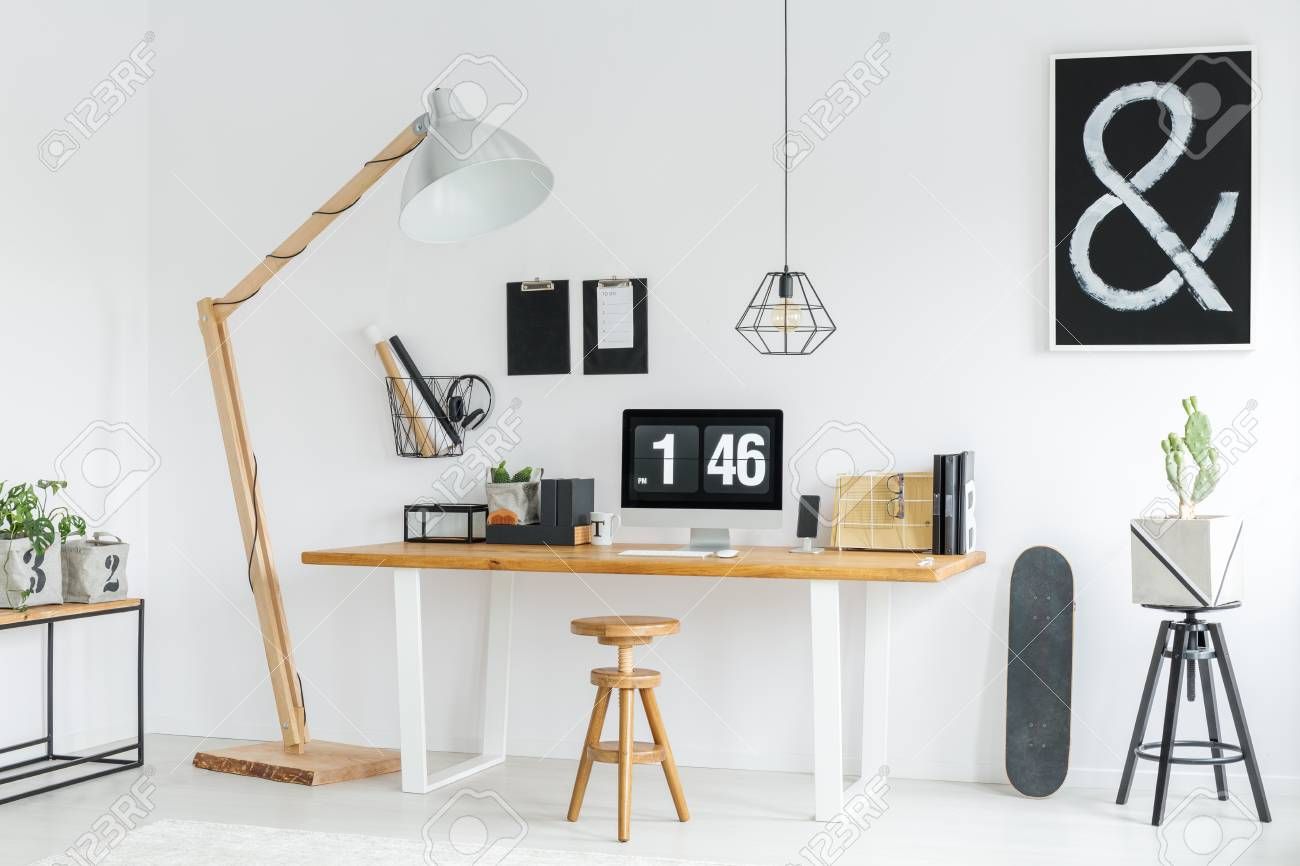 Unique Minimalist Table Model that Space-saving
Lately, do you feel that the interior of your house looks monotonous? Perhaps one of the causes is an outdated table model that does look boring. Well, this is a good time to update the interior feel by changing the old table to a minimalist table.
Minimalist tables generally have a unique design, charming, and space-saving. What kind of table is suitable for your home? Check out our inspiration below!
1. Spacious and Practical Work Desk
When working, we need a large desk area to make it more comfortable, especially if there are many things that are needed. Starting from computers, books, stationery, important documents, to decorations to encourage work. Well, the minimalist table model can be an option for you!
The minimalist table has its own charm. It could be a computer desk as well as a work area, the design that floats or sticks to the wall adds to its uniqueness. The shape is rectangular, but the edges are curved. From the looks alone, it is able to make the interior of the house look fresher.
Uniquely, this minimalist table has a feature space-saving, where the bottom of the table can be pulled out to expand the work area. This is certainly very useful for those of you who need a large work desk in a tiny house!
2. Japandi Table Model in the Dining Room
The concept of Japandi, or a combination of Japanese-Scandinavian, has recently skyrocketed. The nuance contains elements of simplicity and nature, like this dining room with a minimalist table. The shape is rectangular with legs that form a triangle. The use of wood material makes it look natural.
This minimalist table is simple, but you don't need to worry that the interior will look monotonous. The reason is, a simple design is easier to combine with various accents, for example, the table runner that you can change every week. Different table runners, different nuances you get. So, it's not easy to get bored!
3. Coffee Table with "U" Shape Legs
Apart from iron, minimalist furniture is also synonymous with simple wood material. Even though this material is classified as difficult to form, in fact, there are design tricks that make it anti-monotonous. You can prove it yourself with a minimalist table that has a leg with a "U" shape. Put this minimalist table model in the living room and it is guaranteed that everyone who visits your house will be amazed by its uniqueness!
4. Elongated Design, Suitable for Bedrooms
The bedroom space is usually square in shape. If there is a bed, automatically the remaining space is only about 70%. It must also be filled with cabinets and tables. Well, so that the interior of the room does not feel cramped and looks monotonous, just use a minimalist table that is elongated in shape.
Apart from being space-saving, this minimalist table is also multifunctional because at the bottom of the table surface there is storage to increase the storage area. In fact, when opened by lifting the surface of the table up, there is a mirror so that this table can be converted into a dressing table.
The table itself uses light brown wood material with tight fibers. Thus, this space-saving minimalist table model is suitable for use in any interior concept, from Japanese, modern, to contemporary.
5. Multifunctional Dining Table
The dining table should be comfortable to use to enjoy the dish. However, of course, you can also look attractive so that the interior looks more attractive. This minimalist table model for two people is equipped with a shelf on the side so that the table is multifunctional. You can use this shelf as a place to store cutlery or simply display decorations to enhance the interior of the house.
6. Attractive Triangular Table
In general, tables are square and rectangular. Is your old table like that too? If so, try updating the interior of your home by using an anti-mainstream table model, such as the minimalist triangle table.
This table position can be changed at will so that there will always be a new atmosphere. The black color makes it a perfect match with colorful furniture. You can also add a soft fur rug under the table for a homey impression. 
7. Marble Table Looks Minimalist and Luxurious
Finally, there is a minimalist table made of marble material that is anti-monotonous even though the times have changed. The color is jet black with a white hue. The frame is made using a matching colored minimalist iron.
At the bottom of the table, there is a surface made of dark mirror material. You can use this area to place various items, such as magazines or snack jars. Very multifunctional and space-saving, right? This minimalist marble table can be left without decoration to exude its luxury.
The seven minimalist table models are ready to update the interior of your home. Just adjust it to the design and the needs and conditions of the room. Which minimalist table will you choose?