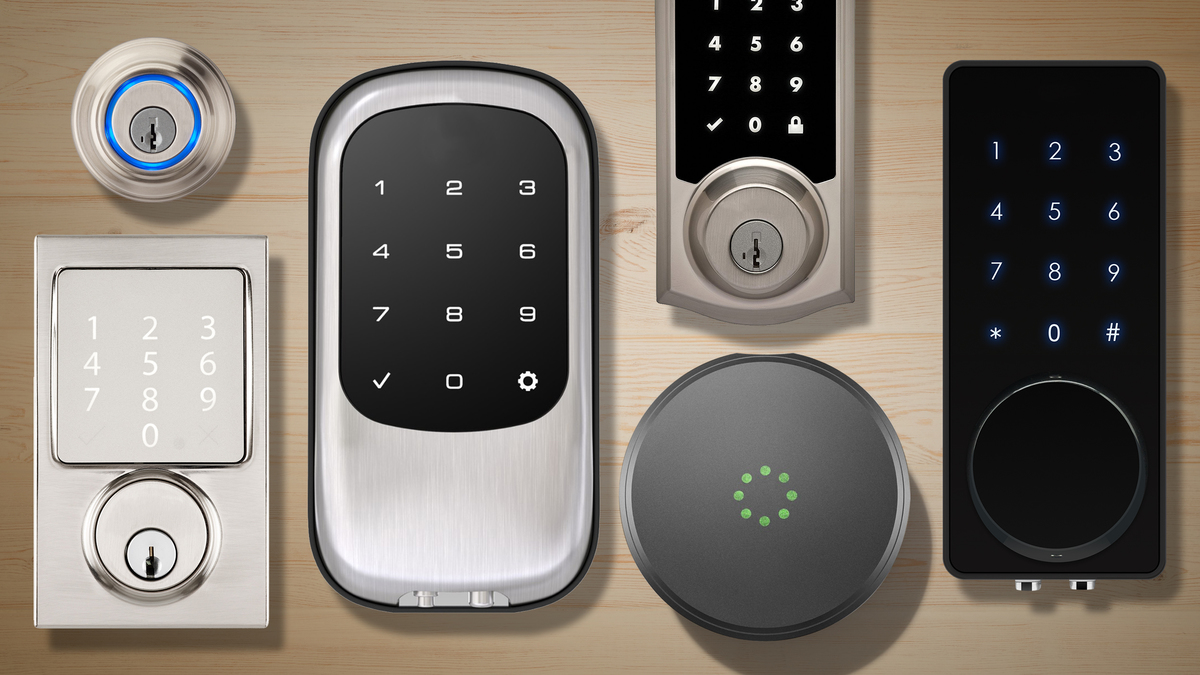 In the past, to open a door you needed a key with a shape that tends to be the same. This is what is called an analog door lock. But in a modern apartment- class residence designed with the latest technology systems today, analog door locks are no longer used. Instead, you have used a smart lock door lock with a PIN, pattern or fingerprint to open the door.
Replacement of analog door locks to smart locks is not without reason. So that this type of door is an option today for anyone who wants more secure. The design is also futuristic, plus the smart door lock also has many other advantages over analog door locks:
1. Offering Various Ways to Open Doors
To open a door using a smart lock, users can choose one way according to the features provided by the smart door lock. Generally those circulating in the market offer the following ways:
Unlocking the door using a card ( 

card unlocking

 ): the door lock will open using the card as the key. So whoever hold the card will have access to open the door.

Unlocking the door using fingerprints ( 

fingerprint unlocking

): the door lock will open by scanning the fingerprint that the data has been entered into the smart lock database. You can register all members of the house so that each of them can have access to it with their fingers. This method is faster and easier.

Unlocking doors using passwords ( 

password unlocking

 ): door access is owned by anyone who knows the pin code or password to unlock the door. This method is sometimes used as an alternative if the fingerprint scan is problematic.

Unlocking the door via remote control ( 

Remote control Unlocking

 ): Some smart lock vendors such as Tissor and Igloohome now allow unlocking the door through the receptionist. So if something unexpected happens so that the lock on your door cannot be opened, you can contact the receptionist to open it via 

remote control

 .

Unlocking the door via a smartphone: some smart door lock vendors such as Kevo smart lock and Otto smart lock allow access to control doors using a smartphone. To unlock the door, a special application that has been synchronized with the key is used.
2. Increasing home security
With the many choices of opening and locking doors provided by a smart lock, it will certainly increase various security systems. You can choose a system using a fingerprint, PIN code, or even use a remote control via a smartphone.
You can restrict access, anyone who can open the door and enter the house. For example, when you choose to use a fingerprint locking system; then only certain people whose fingerprints have been registered in the system can open the door.
3. Increase the Aesthetic Value of the House
Unlike conventional locks, smart doors lock do not have a keyhole. So to unlock it must be done digitally. This also minimizes the occurrence of crime, and beautifies the aesthetics of the door of the house.
As previously mentioned, smart door lock also has an elegant modern design and of course futuristic. Thus it will add to the aesthetic value of your dream home.
4. Can Create "Personal Space"
There are times when you want to be alone, nothing interferes with. By utilizing the feature of limiting access rights on the smart lock, you can have privacy in your home without anyone else entering.
When you activate the privacy feature on the smart door lock of your home or room, the door cannot be opened. The door will remain locked even if it is opened by someone who has the access code for the door lock. This feature will only stop working when you turn it off.
5. Has an Alarm System
Unlike conventional door locks, door smart locks are equipped with a variety of additional safety features. One of them is an alarm system that will alert the residents of the house if there is an error in inputting the password or forcing the door lock.
When the door is damaged, for example, an alarm will sound or give a signal. Thus, residents can immediately be alert and ready to take action. Some smart locks will also give an alarm when there is a significant increase in temperature in the house.
The sound generated by the alarm is generally quite loud. So that it will easily attract attention. Not only the attention of the people in the house, but also the attention of local residents.
6. No Need to Worry About Lost or Left Behind Keys
Those of you who are forgetful will definitely like the benefits of using this smart door lock. When using a conventional lock, you have to take good care of the key to your door. If you forget to bring, or even lose it, then you will not be able to open the door of your house.
By using smart doors lock this will never happen again. Because to unlock the door you only need your fingers. You only need to scan your fingerprint or enter the door opening pin. Looks fun enough is it?!
6. No Need to Fuss Checking the Door
The advantage of using this smart door lock will also make those of you who are forgetful feel happy. Sometimes we forget, whether we have locked the door of the house or not when we are about to go outside or travelling.
If you remember to check it out while you are still at the door, it won't be too much of a hassle. The problem is sometimes when we are busy or in a hurry, we forget to check the door. As a result you have to come back again to make sure the door already locked or not. How troublesome.
However, you will not experience this again if you use a smart lock door. Because the lock will automatically lock. And if you want to reopen the door to the house that has been closed, you have to re-enter the PIN code or scan your fingerprint again.
7. Use More Freely
Another advantage of the smartlock is the flexibility in its use. You can manage who has access to unlock the door of the house. Unlike conventional locks which require you to move the key or make a duplicate so that other people have access to open the door.
You can arrange for all members of your family to have login access. If you want, you can also set it so that only you have login access. With you can minimize the occurrence of crimes due to losing keys, etc.
From a commercial perspective, the use of smart doors lock allows management to be able to provide tenants with access to unlock the property for a certain period of time. This can be done easily via remote control. No need to worry about key circulating, or key reprogramming.
Disadvantages of Smart Lock Door
The use of smart door lock is indeed very easy, it also provides security and comfort that conventional locks do not have. However, there are some drawbacks to smart doors lock that you need to consider before using them.
1. Adaptation to the Use of Advanced Technology
Smart door lock apply advanced technology, and the use of modern equipment like this is not always easy for everyone. Discuss it with all family members before deciding on the installation. Especially if there are family members who are quite old. Actually it's not difficult to learn how to use smart lock, it's just that not everyone wants to learn it.
2. The Price is Relatively Expensive
The price of a smart lock door lock is much more expensive than the price of a conventional door lock. The more sophisticated the features provided by the smart lock, the more expensive the price will be.
For installation, it should also be done by professionals, because installation errors can result in malfunction of this tool. This installation also requires additional costs that you need to consider before deciding to use a smart lock door.
So, ready to use this smart lock door ? Of course you have to consider the pros and cons first. Most importantly, always prioritize safety in your home, as well as ease in using all furniture.