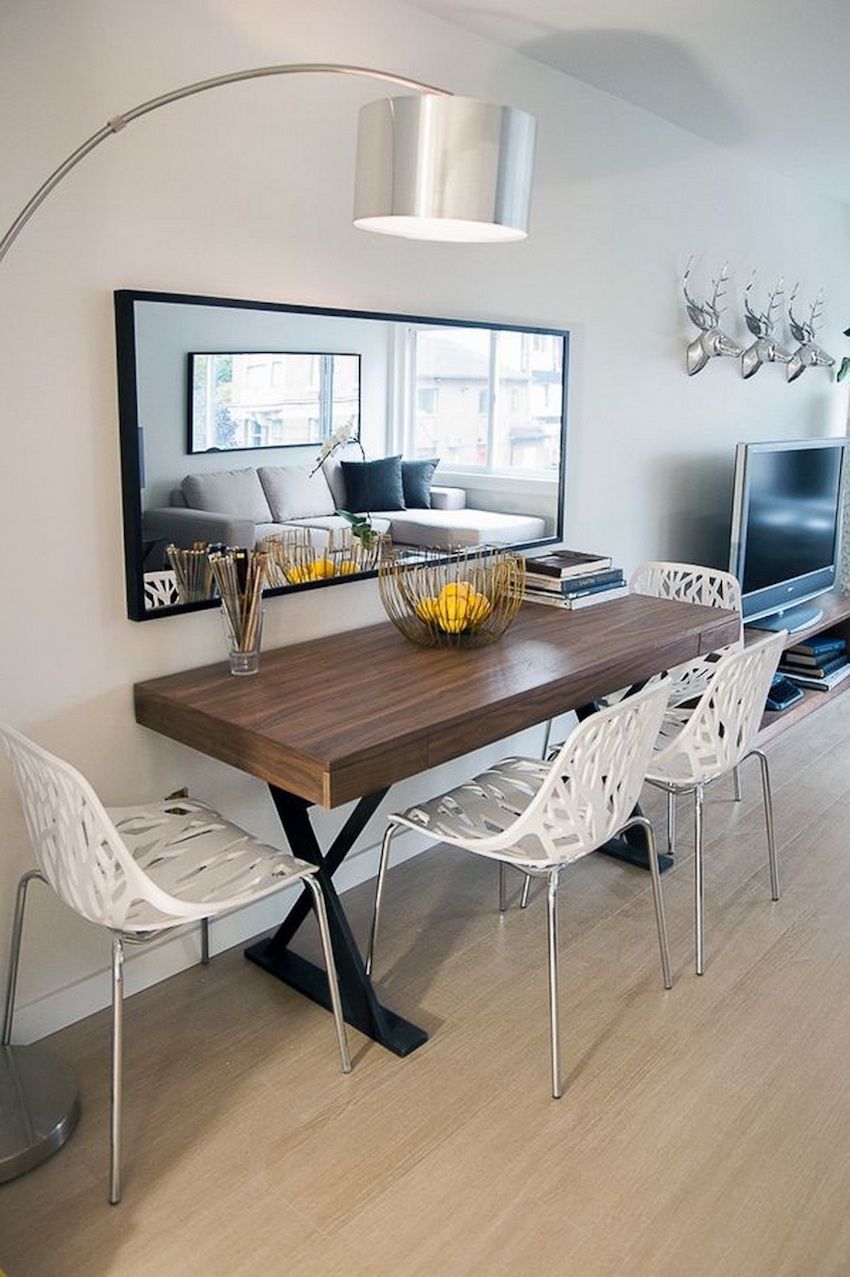 The dining table is the main furniture that must be in the dining room which functions to put food that is ready to eat. At home, the dining table is used as an important tool for the happiness of dining with family members. With a dining table, all family members can enjoy food comfortably without the need to hold plates constantly.
In fact, some houses have to combine the kitchen with the dining room at the same time. In a situation like this in the end becomes an obstacle to being able to choose a dining table that is large enough so that every user feels free.
However, currently the problem of the lack of size of the dining room can be overcome by the presence of a minimalist dining table. This table trend is growing with the presence of various models and is gaining more popularity today. If you have a fairly limited dining room, then you should rely on a minimalist dining table. Here are some of the best choices to support the dining room design in your home.
Minimalist Dining Table Design for 
Breakfast Bar
Minimalist breakfast bar dining table design usually blends with the kitchen island or other parts of the existing kitchen. This table is elongated and can only be used on one side. The height is also quite high, between 125 cm and 150 cm.
In order to enjoy food at this minimalist dining table, you have to use a tall chair too. It is suitable if the selected chair is a round chair without a back. The dining table with the breakfast bar design is perfect for enjoying drinks and snacks while chatting casually.
Pedestal Footed Dining Table
In addition to a minimalist dining table with 2 table legs, you can also eat using a dining table that has one leg. This minimalist dining table with one leg is called a pedestal table. Pedestal tables generally have a round shape and are of medium size.
The table leg is only one and is in the middle of the table with several arrangements of blocks as a base for support and balance of the table. Some pedestal tables are made of glass and some are made of wood. For a more relaxed and classic atmosphere, you can choose a wooden pedestal table. As for those made from glass, it will give a more modern, cheerful and bright impression.
Sawhorse Legged Minimalist Dining 

Table
Generally, table legs are made in a straight shape. There is also a table design that has sawhorse shaped legs. This shape basically consists of 4 legs, but each leg consists of two triangular supports. Each segment will also be held with a piece of wood to maintain the strength of the leg.
Unique Dining Table With Coffee Table Style
The coffee table design is perfect for welcoming and entertaining important guests. When receiving a visit from friends or family, you will gather in the dining room which has a minimalist coffee dining table. As the name implies, basically this table serves to put a cup of coffee.
With the presence of a minimalist coffee dining table, you can not only put food, but it will look elegant to put coffee and some snacks in the middle of the dining room. When compared to other tables, minimalist coffee dining tables are small, small and not too high. There are even those that are designed to be knee-high for adults. Thus, this dining table is suitable for eating on the floor or without a chair.
Practical Folding Minimalist Dining Table
A folding minimalist dining table will be very useful when you need an additional minimalist dining table to welcome the many guests who come. You can take advantage of the minimalist folding dining table and store it back in the warehouse when it is no longer in use.
When you want to use this folding table, you can unfold it and place it where you want. This minimalist folding dining table is suitable for those of you who live in apartments or often hold gatherings in the backyard. Not only that, the folding minimalist dining table is also very useful for camping activities .
Chabudai Dining Table Design
If you often see Japanese films in the past, then of course you often find minimalist dining tables with short legs. This minimalist dining table with short legs is called the chabudai which is a characteristic of Japanese dining tables. In fact, currently it is still widely used by Japanese people, even though they are technologically very advanced ..
This Chabudai type dining table has very short legs, so people who eat around the table have to sit on the floor. A dining table like this really frees up space in the dining room because it doesn't require a chair.
Minimalist Dining Table Design with Glass Material
The glass-based minimalist dining table has several advantages, such as a fairly small dining room that can look more spacious because the table is see-through. The room will also look brighter and have brighter nuances. In addition, you will find it easy to clean this dining table because the glass material is easy to clean.
However, besides its advantages, this type of glass minimalist dining table also has several disadvantages such as being easily broken when hit by an impact. When eating, you also have to be careful not to cause scratches on the table. The glass dining table is also too vulnerable for children who are in their active period. Therefore, this minimalist dining table with glass material is not recommended for families who have children who are still actively moving, because it can pose a risk to these children.
Gateleg Dining Table
The Gateleg minimalist dining table is a dining table with foldable leaves. This table is usually called a drop leaf table. The Gateleg minimalist dining table became popular in the 16th century in England. While needed, this table leaf can be lifted and the size of the table can be increased to be bigger.
Abstract Patterned Dining Table Design
The dining table doesn't have to be designed with a round, square, or rectangle. You can use an abstract table like a wooden surface. An abstract dining table can create a dynamic and natural impression on the dining room.
Trestle Legged Minimalist Dining Table Design
Generally, a table has 4 legs at each corner so that the weight of the table can be supported equally. Different from other dining table designs, this minimalist trestle-legged dining table only consists of 2 table legs. However, even though it only has 2 table legs, its balance and strength are guaranteed thanks to the frame that is connected between the 2 table legs. To further increase support and durability, there are horizontal beams at the base.
You can choose some of the minimalist dining table designs above to match the interior design of the dining room in your home. Enjoy your meal with your family.