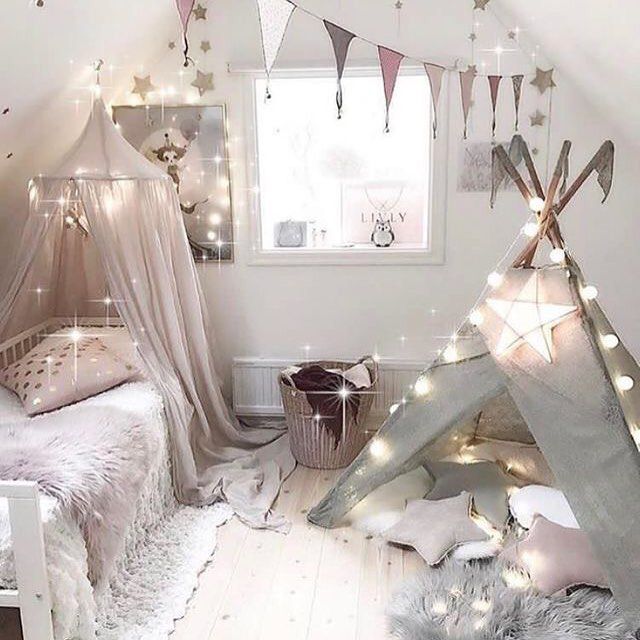 For those of you who are married and have children, designing children's bedrooms is certainly something that must be applied. This aims to make the child feel comfortable and his eyes pampered by an attractive appearance. Especially for girls, usually, the designs displayed are not far from bright colors and fun characters. Apart from this, there are other things that should be paid attention to applying the design of a girl's bedroom.
There are two aspects that must be considered when designing a girl's bedroom. First is what they like, then second is good for their growth and development. These two aspects must complement each other so that the child is guaranteed to grow and develop in the right environment. Therefore, let's pay attention to some things that you should pay attention to before designing a girl's bedroom:
1. An interesting cartoon character or theme
Create a fun character. You can apply thematic designs to children's rooms. To find out what kind of room character the child likes, you can first find out what the child's interests and tastes are. So that the bedroom will later become a comfortable zone for the child's rest.
The most important thing you have to realize, children see things in their own way. It's different from the way you see things. Therefore, do not ever force your will on children just because you see it as the best for children. Try wisely.
You can see the inspiration for thematic room designs for children from the everyday life of children. What they like to try to apply to the room. Whether the rooms are cartoon design, Scandinavian, minimalist, or a beach feel. You can also present your child's favorite animal or character graphics. For example, a headboard in the form of a cat, bear, butterfly, or barbie character.
It's just like that, for cartoon or barbie characters that he likes, just apply it in certain areas but not too much. Because it could be that at any time the child gets bored with these characters.
2. 

Soft

 colors to make it easier for children to sleep
Most parents choose bright colors. And it is true, under the subconscious of children, they are more attracted to bright colors like blue, red, and yellow. It's just that, this kind of color is actually more suitable for a playroom. Because bright colors and contractions can stimulate a sense of being active.
For the bedroom, children need more color with a calm character. For example, you can choose pastel colors that can help children feel calm and relaxed. Suitable for "sending" them to sleep. You can apply bright colors to the furniture, bedding, or decoration section.
You can choose a calm color from the character or room theme that you have previously chosen. For example, girls like unicorns or rainbows, then the walls can use several paint color combinations. But if girls are in 5th grade, they will most likely prefer neutral colors like blue, white, or cream.
3. Present a bunk bed
There's nothing wrong with making a girl's bedroom design with a double bed or an additional extra bed. At least as anticipation when a child's friend is staying overnight.
Meanwhile, for your siblings' bed, you can get around it by using a tiered system or loft. The important thing is you just make sure the railing is strong.
4. The room is dressed in a beautiful and organized manner
In order to teach children to choose their own clothes, you can design a room to dress in a beautiful and orderly way. Also prepare a study table and storage cabinet that children can use for all their needs.
If the child's bedroom has a large enough room, you can make a special dressing room. Put the mirror as the most important interior element to look in the mirror and choose his favorite clothes. The ability of children to wear their own clothes can increase their self-confidence and independence.
5. Small bedroom solutions
Meanwhile, if the girl's bedroom is quite small, you can be creative by presenting multipurpose furniture that can save room space. For example, by presenting a bunk bed where at the bottom you can allocate it to a study table, then at the top it becomes a bed.
6. Provide a growing wall
Provide a blank wall that can be used as a wall of fame for your little one. This is what is meant by a growing wall. On the wall, children can put pictures, posters of their favorite characters, or photos with family and school friends.
Apart from being an expression, the existence of a blank wall with posters is intended for us to change as our children grow. So, if you are bored with the image, you can replace it with an image that you like at your age again.
7. Choosing a lamp with good lighting and healthy
Whatever design you apply, good and healthy lighting must be fulfilled. Whether it comes from lights or sunlight. Choose the type of lamp that can illuminate all corners of the room. In addition, provide a light sleeper with a dimmer color.
Sleep light is important for the child's eyes and nerves to rest well. You can choose an adorable-shaped light sleeper, like a cloud, flower, star, or heart.
The lighting must also come from sunlight to help kill germs and bacteria in the room. However, it is better not to place the bed too close to the window. Because the area has a warmer temperature and will cause the child to dehydrated.
8. Tidy toy storage space
Don't forget to teach children to tidy up their own things from an early age by providing a place to store toys in their room.
You can introduce how to learn discipline from simple things. For example, tidying up toys after playing, tidying up the bed after waking up, and put the trash in its place.
9. Imaginative but safe furniture
You can present a girl's bedroom design with children's furniture that makes children imagine. For example, coming from fairy tale characters, namely presenting furniture in the form of puppet lamps that can be played, swinging stools, and chairs that resemble animals.
The application of bright colors remains the main key to the allure of attractive furniture designs. Most importantly, all the furniture is safe for children to play with.
10. Small Tent for Children's Play Area
Think of this furniture as a child's privacy area. The privacy that is meant here is of course for the little one who wants to play without being disturbed by anything. You can present a small tent with a collection of cute pillows according to your little one's taste. Furthermore, you can also add some of the child's favorite toys to it so that the child can feel at home playing inside. That way, you also don't have to worry about your little one hanging around the house.
11. Furniture that can also educate children
The last important point that you should not forget is to decorate a child's bedroom with something educational. Adjusting the design to the child's taste is fine, but there must be an education filled in. You do this by putting things they can use for learning.
Presenting the right girl bedroom design for them means ensuring that they grow and develop properly.