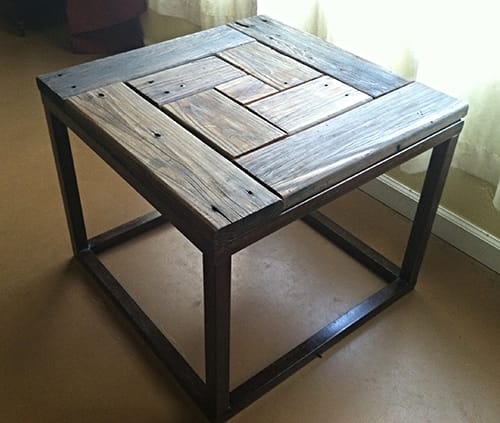 Are you bored with the appearance of furniture at home? Or you have just started your household life and want to have attractive furniture and make you feel at home? Of course you have to be ready to spend enough to get a good piece of furniture.
But what if the financial situation does not support the desire to decorate the house to make it look good? Well, the best way is to use your creativity to make DIY furniture at home. No need to worry, we inspires DIY furniture to make it look much nicer and pleasing to the eye even though the price is not expensive.
1. Make a table from an aluminum frame
The long, perforated aluminum that is usually used to make shelves can also be used to make tables. You can join this aluminum to form a cube or block frame. Then you can place a polished wooden plank or clear glass. Put some decorations such as flower vases so that the artificial table looks more attractive and the living room of the house automatically looks more beautiful.
2. Use a wooden door to make a table like this
If you have a used door that is not used, you can remodel the door into a living room table.. You can ask your regular carpenter to add some wood so that it can be used as an adhesive for the table legs and glass to make it look beautiful. Of course, the wood used is polished first to make it look more shiny.
3. Make a unique doormat from river stones
This next idea can be interesting for one of your home appliances. All you need to do is buy strong glue, some black river stones and a grip liner. Then stick the stone over the grip liner using strong glue. Let stand a few moments until the stone is really tightly attached to the grip liner. Besides looking unique, the natural aura will be felt through the river stones.
4. Use used wood for the bed frame
With used wood, you can make a bed frame to support your mattress. Make it form a bed frame and use strong wood as a base so that the mattress you place does not make your bed frame damaged. If your bed frame has a cavity or empty space, you can use it to make a drawer under the bed.
5. Make your own lamp hanger
Try making DIY furniture using used wood for the ceiling lamp hanger. Make a rectangular ceiling frame first. Then attach the lights to each of the wooden planks. If it's a bit difficult, you can use rattan wood to decorate the house lights that have been installed. To make it easy enough, first blow up the balloon which will be used as a mold. Apply glue so that the balloon doesn't pop, then cover the surface of the balloon with rattan wooden rope. Once formed, pop the balloon with a needle and remove the balloon from the frame.
6. Make tables and chairs from pallet wood
You can feel the rustic impression when you make tables and chairs from pallet wood. Make it resemble a table and you can give paint, or varnish so that the table looks brighter and the fibers on the wood can be seen. As with chairs, just nail each piece of wood to make it look like a chair. Then varnish or coat it to make it look brighter. Add pads as decoration to make it look more attractive.
7. Make a seat out of bricks and wooden blocks
First, place the pile of bricks on two parts and use cement as an adhesive so that the blocks do not move. Then connect this pile of blocks with several wooden blocks through the holes in the blocks. Paint the block (do it before the wood is put through the block) and coat the wood to make it look brighter and more attractive.
8. Make a drawer from used suitcases
If you have a broken drawer and want to replace it with a new one, you can try this method. You only need a used suitcase and a table leg. How to make it, you need to prepare plywood and cut it according to the shape of a suitcase. Punch holes in the plywood in each corner so that later the table legs can enter. After that, connect the table leg to the connecting plate on the suitcase.
9. File storage from cardboard
No need to buy, you can make your own file box from unused cardboard. Choose a cardboard that is thick and rather strong so that your file box is not easily damaged. You can start by cutting the cardboard according to the shape of the file box in general, then give it color paint or wrapping paper to make it look more attractive. To strengthen the file box, put a weight at the bottom of the file box so that later your file box can accommodate documents and books.
10. Make shoe racks, clothes hangers, and flower racks from used wood
Still with used wood, you can make some furniture from used wood. So you don't need to buy additional furniture. You can make a shoe rack by collecting some used wooden boxes. With used wood, you can also make clothes hangers. Just nail the board to form a base and paint it to make it look unique. Then give nails or tools to hang the clothes later. The planks nailed to form a base can also be used for plant racks. Of course, give a gap so that the plants can later be placed on the flower shelf.
Those are some inspirations for DIY furniture that you can do at home. Even though it is the result of your own creation, it doesn't mean that the furniture you will make looks unattractive and fails. In fact, it will have its own essential when you succeed in making it. Let's be creative!