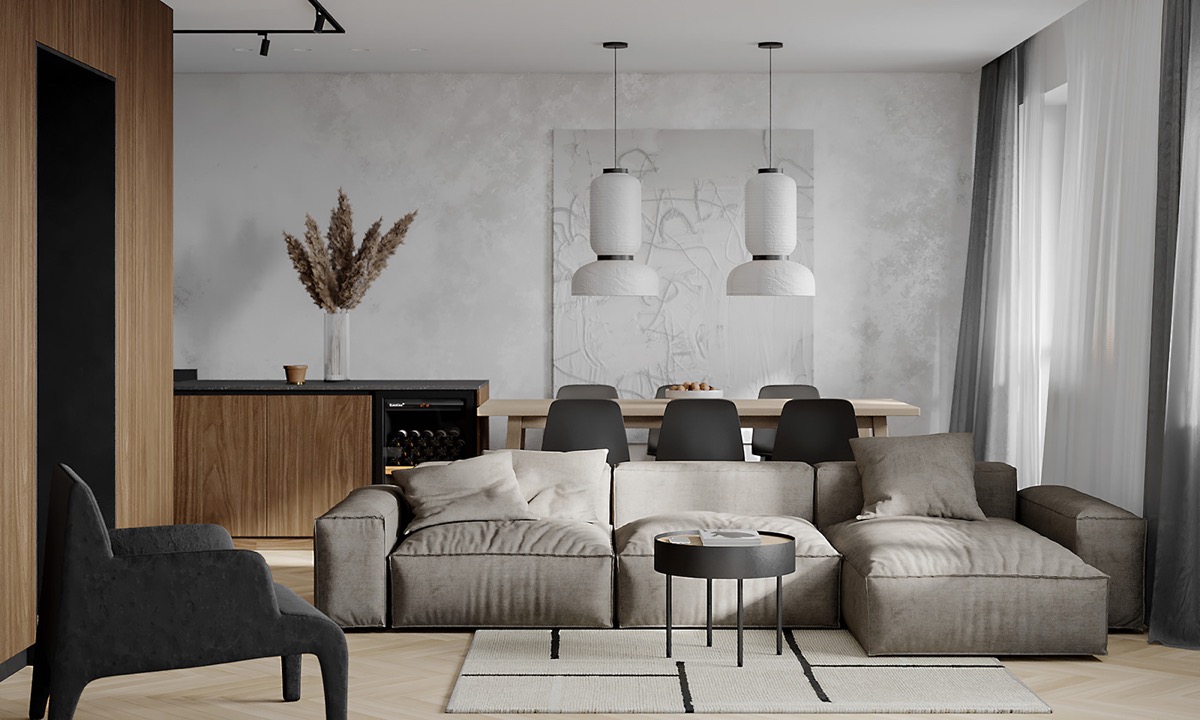 Inspirational Ideas for Using Gray Color for Home
For those of you lovers of gray color, you can be proud, because this color, which is a mixture of black and white, is one of the most recommended by interior experts, including professional apartment design service providers for a long time. Gray color always has an elegant and relaxed impression, plus it can be applied to various residential styles, from Japanese, minimalist, modern, to futuristic.
Thanks to its unique color, it's no wonder that many people are competing to design their houses in gray. Well, here we have 7 inspiring residential rooms in luxurious and classy gray. What are you curious about? Wondering what it's like? Let's take a peek with us!
Scandinavian Industrial 

–

style Space-Saving Living Room
For those of you who crave industrial and Scandinavian designs, you can combine the two with soft gray as the unit. The interior design team utilizes a combination of these two styles with a space-saving concept that maximizes space through the use of multifunctional furniture according to the needs of modern society.
With the dominance of raw, aka raw-style walls in the staircase area, the gray color comes with a relaxed, but classy look with a combination of wood and ceramics. Meanwhile, the other wall areas simply use white paint.
Modern Minimalist Bedroom
The gray in the bedroom is definitely worth a try! This color is synonymous with calm and effectively provides luxury, even for a small room like an apartment. The impression of modern minimalism is also present in this inspiration.
Its application is also not difficult because you can simply paint one of the wall surfaces with gray color. After that, add some bedroom complements with the same and matching colors, such as gray sheets and blankets, white curtains, or black bed lights. You can replace furniture with gray, such as on beds and chairs. So, you don't have to use apartment or house design services to get luxurious results.
Bar Table In Gray Color
There is another concept that maximizes kitchen space to make it more space-saving and flexible with the dominance of Scandinavian -style gray in the kitchen set. This project focuses on the needs of a modern kitchen that remains aesthetically pleasing, where a multifunctional bar table that can also be used as a work area is made with natural marble, plus wrapped in gray to match the bar stools.
Well, behind the bar counter there is also a kitchen set cabinet or kitchen cabinet covered in the same gray color. In addition, this kitchen area is also equipped with a wall shelf at the bottom of which there is a lamp that gives a warm and luxurious feel.
Modern and Luxurious Apartment Interior
Not only houses can be designed with various concepts, but you can also change your apartment's appearance as you wish, whether it's with the help of apartment design services or not. Well, the inspiration for this apartment carries a modern theme with a dominant touch of gray on the floor area, minimalist sofa, and refrigerator.
The apartment, which also applies the open space concept, has also been enhanced with several other color combinations. There is a grayish blue color on the kitchen set, carpet and sofa cushions, white color presented through wall paint, backsplash, and kitchen cabinets, and brown color on the dining table and coffee table sets. Not to forget, the touch of green from the plants in the corner of the room also manages to blend perfectly with the luxurious gray color.
Stay Neutral for the Children's Room
There are many parents who gravitate towards one color for their children, but many also like the concept of keeping it neutral. Well, if you are the one who holds this concept, gray can be an option for your little one's room. Thanks to its neutrality, gray can also be adjusted or combined with other colors.
In addition, you can adjust the color tones to create the mood, ranging from super soft to darker for a bold impression. Another advantage of the gray interior is timeless!
Artistic Aesthetics for Apartments
The apartment design with the Artistical Scandinavian theme, which is leaning towards modern style, has succeeded in creating a maximum comfortable atmosphere. The use of gray is combined with a contrasting yellow color so that the appearance is even more glowing when exposed to the dim incandescent lights. The consistency between these two colors is indeed suitable because gray is also suitable to be combined with a more cheerful color.
Gray Color to Accompany Activities in the Kitchen
The choice of gray is a favorite because it is very suitable to be applied in any area, such as in the kitchen set above. Kitchen set using style approaches that save space or space-saving models shaped "L".
The gray color itself covers the entire cabinet surface, while for the kitchen table surface, white is used as a counterweight so that it is not monotonous. The kitchen looks more spacious and classy.
Gray color can create a luxurious and elegant impression on a residence. You also don't need to bother thinking about other color combinations because gray is neutral so it can be combined with any color furniture or decorations.
Lastly, make sure you use furniture that is multifunctional and efficient in your home so that the room becomes more space-saving. Remember, a home is a place where beautiful moments begin. So, make your home as comfortable as possible so that the moments with your family will be more memorable!