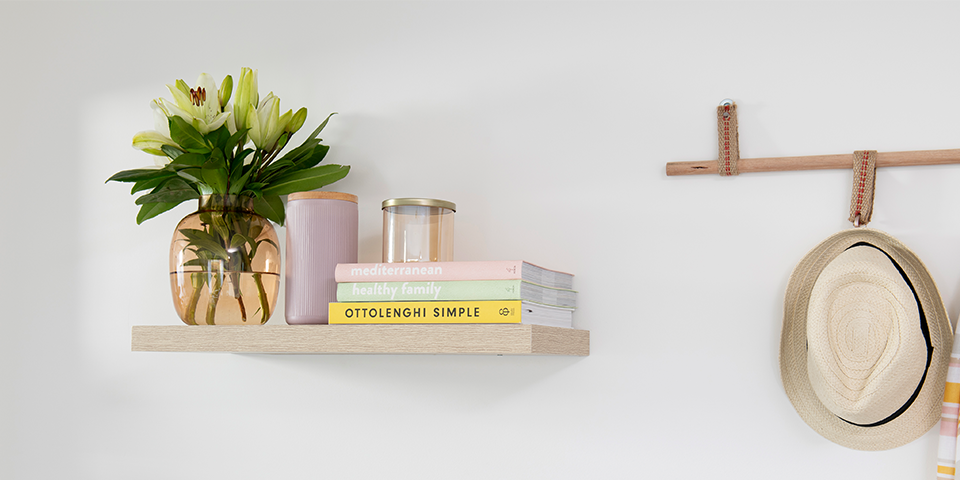 At home, surely you have quite a lot of things that you can't just put away. These items should be stored so that the house doesn't look cluttered. Shelves are one of the most effective storage places. But not only effective, shelves can also be an interior option to beautify your home.
Currently, floating shelves are the target of many people. Not only functions to store items, but also stylish . There is no harm in beautifying a house with a floating shelf , right? It's just that to install a shelf you usually have to make a hole in the wall with a drill.
Imagine, if you rented a house like an apartment or a rented house that prohibited you from making holes in the wall. Then it is almost impossible for you to install a shelf. But take it easy, there are still ways to install shelves without wall drills that you can use.
1. Select the Wall Shelf Model Variant
There are several models of wall shelves that are much popular, including:
# Basic Wall Shelf
This type of shelf is only a base for placing things, without side protection, or without sides. Its function is more for decoration. Even if you are going to put things on it, it's better if it's light. Do not place fragile items on it.
Because if you hit it, it will easily fall. How to install a wall shelf is also very easy, even without a drill.
# Corner Base Wall Shelf
The shape is almost the same as the first type, but this type is to be installed in the corner of the wall. You can put more items on it. How to install this wall shelf, you can just use the adhesive.
# Basic Shelf with Right and Left Side
This shelf has sides on the right and left, so it's quite safe to store things. The model is also quite unique and can beautify your room.
# Wall Shelf Box
This type of shelf is arguably safer than the two types of shelves above. Because it has a protector or sides and a top, as well as shelves in general. It's just a smaller size and a more modern model. Not only stylish, but also more maximal in function.
# Shelf With Additional Drawers
The shape is only the bottom base, but with the addition of a drawer underneath. So this type is more functional. You can keep books in a drawer, but not too heavy. There are also thicker shelves with a larger volume of drawers.
# Hexagonal Wall Shelf
The shape of this shelf is a 6, as the name implies, hexagonal. This wall shelf design has many fans. Various shapes and sizes are available on the market. Some are big, and some are small. Can store goods quite well. And what is clear is that it can beautify the walls at home.
2. Put on the table
There are a few tricks so that you don't need to use a drill to install wall cabinets. No need to call an expert either. Can be done at home by anyone. Wall shelves that are boxy and not too big can actually be placed on the table.
It can also be in a hollow in the wall if it is the right size. It is therefore important to measure the shelf carefully before buying it. So you don't have to bother using a drill or ask an expert to install it. Still beautiful to look at, the room is pretty and neat.
If you use this method, you can put items that are quite heavy on the shelf. For example, books that are quite thick. Can also put decorations that break easily. Because there is a safe protector under the shelf, in the form of a table or wall.
3. Using 3M Adhesives
How to install a wall shelf without a drill can also use 3M adhesive, it's just that there are a few things you should pay attention to if you decide to use adhesive:
Choose a light shelf. Do not choose shelves made of heavy wood, so that they do not overload the adhesive.

Choose a shelf size that is not too big. More suitable for shelves whose function is only as a display.

Don't put down heavy things.

We recommend that you put items that are not broken.
The adhesive used is 3M Command Pucture Hanging Strip adhesive. If you are not familiar with how to install a wall shelf without this adhesive, here's how:
This adhesive has 2 strips. First tear the strip before use.

Press the two sticks together until you hear a click.

Then remove one side of the sticker and stick it on the wall recap that you have bought.

After the 3M adhesive is on the shelf, open the other side of the sticker. After that, stick it on the wall. Press each part of the shelf, especially the one with the adhesive. Do it for 30 seconds to get it attached properly.

In order for 3M adhesive to function optimally, you can remove the shelf first. Grasp the shelf at the bottom and slowly remove it. Don't pull the shelf hard.

When the shelf has come off, press the adhesive on the wall for about 30 seconds. Then wait for 1 hour before installing the wall shelf again. When installing a shelf, make sure that the adhesive on the wall and the adhesive behind the shelf are aligned. Then press it until you hear a click sound.
Ready to Install Wall Shelf? Pay Attention First
Don't be too hasty to buy a wall shelf and install it just because it's an attractive model. There are a few things to watch out for when you buy and install it without a drill:
1. Its function
What is the purpose for you to buy the shelf. Storing books, storing various kinds of items, or just to sweeten the room. For example, to save books, also pay attention to how many books you have. If there are many, you should choose an ordinary shelf that is placed on the floor, not a floating shelf.
For storing a wide variety of items, the best option is a shelf with several sections that have doors or drawers. So it doesn't look too messy. Meanwhile, if it's only for display or sweetener, you can choose based on the design you like and according to your home.
2. The size
Choose a shelf that fits the size of the room in your house. Don't get it so big that it almost fills the room. Measure carefully the space as well as the shelves you are aiming for.
3. The model
Nowadays, many people prefer minimalist and modern models. Because this model is easier to adapt to various types of rooms.
If the shelf function is only to sweeten the room, you can more freely choose a shelf model. Ranging from ordinary squares, to triangles, hexagonal, round, and even asymmetrical or irregular models.
4. Strength, Paint, and Others
Not just because you like the model, then you don't pay attention to the strength of the shelf. Pay attention to this too. Even though it's just a display, you definitely want a shelf that is durable and strong enough, right?
If you buy a finished shelf, also pay attention to the color of the paint. Does it match the wall color of your house. If you like multi colors, of course you can be more free to be creative and mix and match colors.
If you have chosen a shelf, now it can be installed immediately. After all, it's not too difficult to install your own wall shelf at home? You don't need a drill. You also don't need to make a hole in your favorite wall.