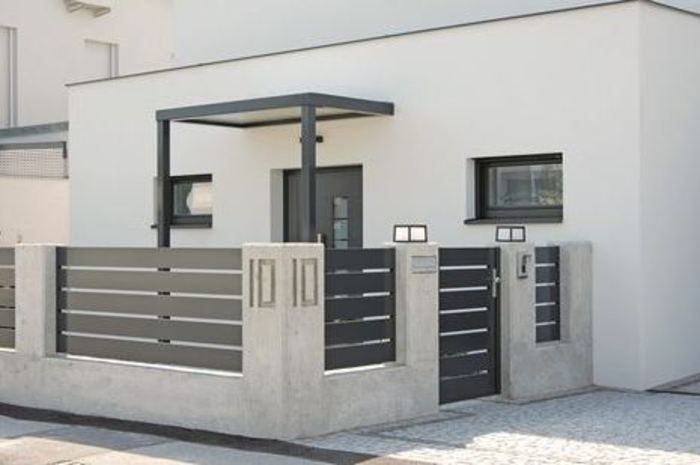 Making material planning for home design is indeed not an easy thing, including fencing matters. Even though the residential concept you choose is modern minimalist, that doesn't mean you only focus on the function side. You should also pay attention to materials for a modern minimalist home fence.
The exterior appearance of the fence can be a reflection of the house building in it. And that, it's good if you determine in advance what type of material you will use for your home fence. Here are the best choices:
1. Galvanized Hollow Iron
This type of iron is the most widely used material for modern minimalist home fences. Apart from being relatively cheap, galvanized hollow iron is also anti-rust, so its durability is guaranteed. Even though the appearance is no different from ordinary iron.
Since the material is commonplace, galvanized hollow iron fences can be combined with any minimalist home style. Especially dwellings on a narrow land, where the fence is directly connected to the garage.
2. Carved Iron
Who would have thought that you could conjure up a minimalist home to make it look more luxurious and elegant? The alternative is to design the fence in such a way and also choose the right material. For example, by using carved iron.
You can try iron with various types of patterns such as flowers and abstracts. It would be great if your fence has a towering height, although not too wide.
3. The wall
Don't believe the walls always seem stiff. As long as you are able to turn it more alive, walls can also be attractive fences for your minimal home. Don't forget to combine it with wood or iron material.
As with iron, wall material is actually also suitable for any minimalist home style. The land used doesn't have to be a lot, depending on how you outsmart it.
4. Ironwood
If you have a house that tends to be closed in front of it either because of a large yard or indeed you apply such a concept, ironwood can be a suitable material for fences.
Not only that, a house that carries a modern minimalist concept with a classic touch is also suitable. You can combine ironwood with an iron frame, for example, to emphasize its modern minimalist impression.
5. Bamboo
Bamboo is one of the most attractive modern minimalist home fence materials to use. There are lots of fence models with bamboo material that you can apply at home.
You can install it vertically or horizontally. The touch of green plants outside the fence or inside will further emphasize the natural impression of your home.
6. Natural Stone
The next material that you can choose to become a fence is natural stone. This one option is a bit different from other types of fences, but trust me that natural stone will make your fence look more attractive.
This fence with natural stone material is suitable for minimalist homes that apply the concept of geometry. This means that the impression of building spaces such as boxes and cubes is emphasized more in the house. The more perfect if the house has a masculine 'face'.
7. Bricks
Bricks can also be a unique and eye-catching idea as a fence material. If you have a large yard, this idea can be a good alternative. Your home will look more beautiful with a modern and natural touch.
You need to know that a brick fence should be applied to houses that have large yards. The reason is you still have to combine it with other ingredients. In addition, maintenance must also be monitored so that moss is not overgrown.
8. Synthetic Wood
Your house yard is not very wide, so you are busy thinking about a suitable fence? Take it easy, you can try a fence made of synthetic wood which is a mixture of fiber and natural fibers.
The advantage of this modern minimalist home fence from this material is its solid texture, making it difficult to weather. It will be more harmonious if your residence is symmetrical and looks plain.
9. Teakwood
Teak wood is still in a good position to be used as a fence. You can arrange them horizontally to make them look neater. The touch of the surrounding trees will also reinforce the natural impression of your home.
You don't have to have a yard with various types of plants to use a teak fence. Any style home looks good with this one material. especially if your dwelling doesn't have a lot of ventilation, then this material will make it fresher.
10. Ceramics
Using ceramic materials for the house fence will not look excessive as long as you can arrange it properly and carefully. Usually, the house that matches this one fence is a really simple house, so it looks more masculine.
Especially if the color concept used is basic colors such as black and white. Surely the appearance of your modern minimalist home fence will impress.
11. Plastic Fiber
The use of fiber plastic as a fence material is a wise alternative for those of you who live in suburban areas. This material can help to prevent various animals or dust from entering your home freely.
This fence design is more suitable if your house has two floors with the height of the fence that rises slightly upwards.
12. Mirabeau wood
You must know that Mirabeau wood is one type of wood that is waterproof, so it is suitable as a fence material. Like other wooden fences, this type of wood should also be paired with a house that carries a natural concept. So the interior of the house is indeed dominated by wood, green plants, or water.
Choosing a modern minimalist home fence material will never be separated from several points. Whether it's a concept or an available budget. So, adjusting it to your taste and budget is one of the solutions that you must consider.