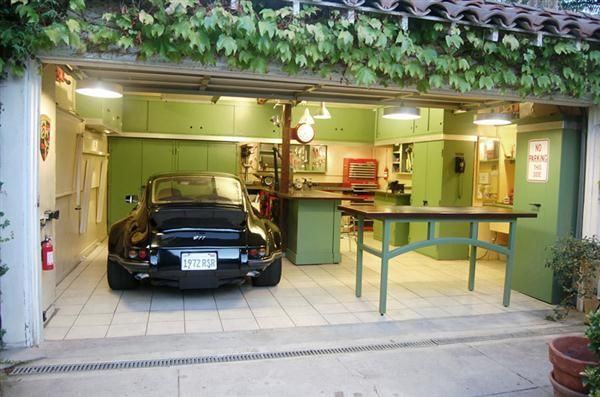 A vehicle parking space or garage has now become a necessity in every home. Not a few housing in urban areas require home owners to have a garage in order to create a safe and nice environment.
The reason is that some people park their vehicles on the side of the road, thus disturbing the traffic of other road users. Shouldn't it be that every resident of the housing obeys and respects each other's rights?
In addition to disturbing road users, parking a vehicle on the side of the road also tends to be at risk of criminal activity. There have been many cases of vehicle theft and vehicle accessories that have occurred, due to parking carelessly or not in the garage.
Well, if you have a minimalist type of house, it is sometimes difficult to build a minimalist garage design. However, you don't need to worry, here are some suggestions regarding minimalist garage designs that you can read for inspiration.
Tips for applying a minimalist garage design
1. Using a Galvalum Canopy
Having a minimalist home concept in urban areas requires you to be more creative in maximizing narrow land.
No need to bother building or renovating new room and room schemes. Because, you can use the yard or yard in front of the house for parking.
At least, the vehicle has entered the property area and does not take up the shoulder of a residential public road.
You can use a shade or canopy made of galvalum material. Currently, galvalum material is already very much on the market. Galvalum material has many advantages, including light, strong, weather resistant, durable and relatively affordable price than wood.
In fact, the installation of a galvalum canopy is also not too long, in a matter of days. So, you can make your dream minimalist garage design come true in no time.
2. Semi Open Minimalist Garage Design
Furthermore, a minimalist garage design that you can apply is without doors or semi-open.
On the side and back you can place a bulkhead to protect the car from all three sides. However, there is no need for a rolling door at the front or entrance.
That way, you can be faster and more practical when you get your car out of the garage or when you park it again.
To make it look more modern, you can paint the dividers on the three sides of the garage in neutral colors such as black, white, or use a wall decorated with natural stone.
3. Aligning the contours of the land
If you have a residence located on contoured or terraced land, you can try this minimalist garage design.
In order for the garage to remain functional, as much as possible try to keep the design in harmony with the overall concept of the house.
For example, by combining some of the same elements with the exterior of the house. Either that, adding elements of wood, iron, and concrete.
4. Minimalist Garage Design Using A Wooden Fence
Adding a wooden fence element to a minimalist garage design will make the garage look more elegant and ethnic.
Wooden garage fences can be folded or sliding models as needed. Also mix with shades of color to match the front facade of the house. Thus, the environment becomes more unified.
5. Wearing Glass Sticker / Sandblast
Sandblast glass or glass stickers are generally used to block interior views so that the effect looks opaque.
Of course, for the safety of the vehicle garage, the sandblast glass effect will be of great help. In addition, in terms of aesthetics it also supports the minimalist garage design concept.
You can choose a layer of glass sticker or sandblast glass because it is relatively more impact resistant and easy to maintain or clean.
6. Basement Garage
Don't have the land to make your garage for several of your vehicles at once? Why not make it underground?
Yes, currently limited land in a minimalist residence makes many people rack their brains so that they can still fulfill their lifestyle. Especially, for those who have high mobility and want to secure their vehicle in the garage.
The garage in the basement is very safe, you can use the automatic upward sliding door design so that whenever the vehicle accesses and enters, the door will open and close automatically.
7. Installing the Cabinet in the Garage
Another tip for maximizing a minimalist garage design is to keep all items neat and organized. You can build a cabinet to store various automotive equipment or concurrently double storage.
This cupboard or cabinet can be affixed to the wall up to the edge of the ceiling. So that every inch of a minimalist garage design can be used to store items to make them more organized.
8. Hanging Items on the Wall
Garage walls can also be a great idea to maximize a minimalist garage design. You can hang items on the wall with hooks or holders, nails, and so on. This will make your garage appear tidier and more concise.
9. Magnetic board
If you are the type of person who often forgets to put small items such as nuts, bolts, nails, etc. So, the magnetic board will greatly simplify your repair business.
When repairing a vehicle or maybe working on something in the garage, all you have to do is attach a nut, bolt or nail to the magnetic board. You can also use magnetic boards to organize small items that are easily lost in the garage.
10. Installing open wooden shelves
Sometimes the garage is not only used to secure vehicles. Rather, it doubles as a warehouse or storage area for temporarily unused tools or items.
One idea to make the most of a minimalist garage design is to install open walled shelves with wooden strips. You can also place various items in large containers or large plastic containers that can be moved easily.
8. Attach the pegboard and hooks
Always use minimalist garage wall space to maximize space. You should know that relying on the floor to put objects or tools in the garage will make it look messy, full and chaotic.
So, save the automotive tools in the pegboard place so that the minimalist garage design looks spacious and neat.
9. Tie and store the cable in a special place
You can roll the unused cables and place them in a special container. Place this cord in a location that is not easily accessible to children. Because you have cables lying on the floor of the garage, it will make the garage look cluttered and possibly endanger your safety by tripping or scratching it.
Don't hesitate to use your creativity so that a minimalist garage design can save space while adjusting your personal taste.
Apart from following the tips above, try experimenting with other ' out of the box ' ideas .
Think of other ways or things you can do to maximize the minimalist garage design while still appearing in harmony and blending with the overall concept of the house.